While it would be nice to be able to do every welding project inside of a clean, well-organized, perfectly outfitted shop, that's not the reality of everyday life.
No. Often we find ourselves having to tackle welding projects out in the field, sometimes in areas with no real reliable power source to depend on to get the welding equipment up and running.
That's where generators come into play.
At the same time, of course, not all generators are created equal.
Some generators are going to provide hours and hours of "juice" to run your welder like the Westinghouse wGen7500 whereas other generators don't have enough power to even get your equipment started. Finding the right generator is a huge piece of the puzzle, and something you're going to want to take care of ASAP.
That's why we put together this quick guide.
By the time you're done with the inside information below you'll have a much better idea of what kind of generator you should be using to run your welder. We cover all the ins and outs of whether or not a 5000 W generator is enough or if you should look elsewhere, and provide other tips and tricks doubt you get your hands on the best generator possible.
Let's stay right in!
Will a 5000 Watt Generator Run a Welder?
Without knowing the specifics of the welder that you are looking to purchase, we can only tell you that 5000 W generators are (usually) going to be able to power your average welding set up.
We recommend the Westinghouse Wgen5300 Watt generator for its tough body and high performance.
Most welders (especially those running off of 115 V) are going to need at least 15 A as well – sometimes 20 – and a 5000 W generator should be capable of putting that kind of amperage out with no real difficulty whatsoever.
At the same time, course, you want to make sure that your new 5000 W generator is a "continuous rated" generator if you're going to be running welding equipment off on a consistent basis. You need to know that you are getting a consistent draw of power from your generator, that's for sure.
Just to emphasize, though, there are a lot of other considerations you have to factor in before you start plugging welding equipment into a generator. We highlight a couple of those key considerations below.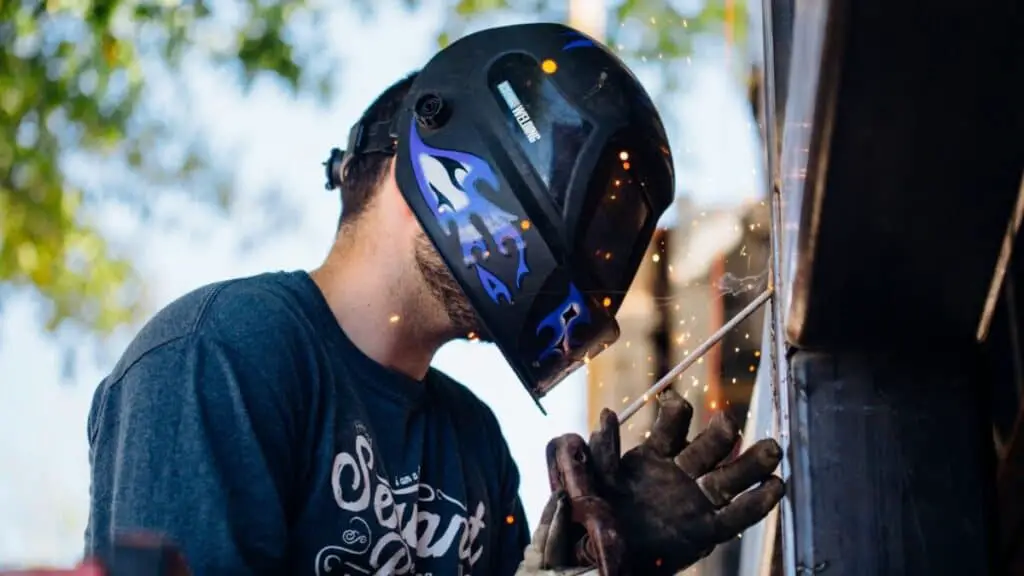 Finding the Right Size Generator for Your Welder
One of the most important formulas you can remember when purchasing a generator for welding equipment (or any other "power-hungry" piece of equipment you might be running off the generator) is this one:
Wattage equals Amps multiplied by Volts
This formula is going to guarantee that you never get your hands on a piece of generator technology not capable of delivering the kind of juice you need to run your gear in the field.
At the same time, you also need to pay close attention to the steady ongoing load that your generator is capable of putting out, sometimes expressed as the "running wattage" load.
The overwhelming majority of generators on the market today are going to see a big spike in power as soon as the welder itself starts. This is usually anywhere between 25% and 30% higher in power production than what your continuous running wattage is going to be.
Don't get folded into thinking that this wattage (sometimes used in marketing) is immediately applicable to the amount of energy that generators going to put out consistently. This is instead the "surge wattage rating" and things are going to even out most immediately after the generator has had a couple of minutes to run.
It's also important that you get a generator that offers more capacity than you'll likely ever need.
The big reason that 5000 W generators are so popular is that they have an outsized capacity compared to your standard welding equipment. You can run them confidently for hours on end without ever causing the generator to "redline", something that couldn't have been done with smaller output generator options.
Best Selling Welding Generators
DuroMax XP4850EH Generator-4850 Watt Gas or...
Plenty of Power – With 4,850 starting watts and 3,850 running watts, this unit can handle heavy loads, from...
Dual Fuel Technology – This generator runs on gasoline or propane, giving you the freedom and flexibility of...
Powerful Engine – The DuroMax 210cc OHV engine is a workhorse that provides plenty of power to handle...
MX2 Technology - Get the maximum power from each of the 120-volt receptacles. Choose between operating the...
Fully Featured Power Panel – The power panel includes a wide selection of outlets for maximum compatibility...
Briggs & Stratton 8000 Watt Portable Generator...
Briggs & Stratton Engine (420cc) - For long life, high performance, and great fuel efficiency when using your...
Multi-Featured Control Panel With Circuit Breaker Protection - Includes four GFCI 120 V household outlets and...
Long 9 Hour Run Time (at 50% Load) - A metal 7 gallon fuel tank for more durability and less refueling.
Surge Wattage - The Power Surge alternator produces a short surge of power needed to start large motor-driven...
Key Electric Start & Remote Choke - For quick and easy starting right from the control panel.
Sale
YESWELDER ARC Welder 205Amp Digital Inverter IGBT...
ARC-205DS is ideal for 6010,7018,6011 DC Stick Arc welder.Powerfully arc starting ,
Hot start &Arc force build in designed- Easy Arc starting,make your welding job happy and convenient.
IGBT soft switch technology, excellent Arc stability, 20-205amps very suitable weld thin workpiece. The...
Automatic compensation for voltage fluctuation, over current protection, over load protection,temperature...
Lift tig is optional(need buy extra tig lift torch,not included inside product)
TOMAHAWK 15 HP Engine Driven Portable 2,000 Watt...
TIG, Stick, and MMA Welding Versatility with 2 Year Warranty
Inverter Generator with stable sine wave for the steadiest welding
Weld and Run Electric Tools all at once
Able to weld 1/3, 1/4, 3/8 inch
Easily set amperage with Electronic Reader and Knob
Last update on 2021-04-12 / Affiliate links / Images from Amazon Product Advertising API
How Many Watts Does Your Generator Use?
You to make things a whole lot easier finding the right generator for your welding equipment if you know how many watts your welder uses on a regular basis.
Unfortunately, there are only a handful of manufacturers that actually produces kind of information directly on their hardware.
Luckily though, you can usually figure things out with the formula we highlighted above, calculating wattage using the information regarding voltage and amperage that is almost always prominently displayed on the welder itself or in the owner manual.
Double Check the Manufacturer's Voltage and Amperage Ratings
Most generators are going to be rated for 120 V or 240 V. Welders, on the other hand, are often rated at either 110 V, 115 V, or 230 V.
Obviously, 110 V and 115 V welders will work on generators that pump out 120 V. 240 V generators can accommodate 230 but welders, too.
Have a look at the "data plate" on your generator as well as on your welder to make sure that you have a perfect match before hooking things up in the first place.
When it comes time to confirm amperage ratings, you want to look for the "Maximum Inrush Amperage" figure. Sometimes this is described as the "Surge" draw as well.
This will let you know exactly how much juice your welder is going to pull right out of the gate to get things up and running, and as long as your generator can provide that kind of power you shouldn't have any trouble whatsoever.
Closing Thoughts
At the end of the day, you really shouldn't have much to worry about using a 5000 W generator to power a standard welding set up.
Before you purchase a generator, though, you'll want to think about any other accessories you might be running off of that same power box, too. It's not uncommon for other tools to run off of the same generator your welder is – and some of them are pretty power-hungry.
The style of your welder will also determine (large part) how well it operates with your generator. Traditional, transformer-based welders work really well and are very reliable with pretty much any kind of generator on the market today. Inverter style welders, on the other hand, can be a little bit finicky.
All in all, as long as you focus on the details above and do your research moving forward you shouldn't have to deal with much headache or hassle getting the right generator to power your welding equipment.