The DuroStar DS4000s is a state-of-the-art portable generator, powered by a 7 HP DuroStar OHV engine. With an impressive 4,000 starting watts and 3,300 running watts, the DuroStar DS4000S will run appliances like lights, music, air conditioning, or even a refrigerator!
In case of an emergency or power outage, just start your reliable DuroStar up and you will not have to go without precious electricity in your home or RV.
Specs: 
Gas-powered
4-gallon tank
Two 120V household outlets and one 120V 30A twist-lock outlet
4,000 starting watts and 3,300 running watts
92 lbs
Download owners Manual Durostar DS14000S here!
Last update on 2021-04-21 / Affiliate links / Images from Amazon Product Advertising API
Top Features
Perfect for camping, RV, and more! As its name implies, the DuroStar DS4000s is portable. This means that you can take it almost anywhere. The DuroStar is perfect for camping, RV, boating, mobile detailing, home… you name it, and the DuroStar will be there. 
7.0 HP. DuroStar OHV engine. The DuroStar DS4000s has an impressive 7 HP DuroStar OHV engine, which powers it at 4,000 starting watts and 3,300 running watts. The engine is also air-cooled, to help prevent overload and to keep your generator running smoothly overall.
Low oil shutoff. Low oil can do real damage to any machinery. As you know, oil is what keeps the gears from grating on one another, wearing down, getting stuck, etc. This generator will shut down before the damage is done, right once the oil becomes low! 
All metal construction. This is no cheap plastic generator. The DuroStar DS4000s has is made completely of metal. This makes it ultra-durable! 
Surge arrest technology. The DuroStar possesses surge-arrest technology, to protect your valuable devices, appliances, and the like.
8-hour run time at 1/2 load. At ½ load, this portable generator has an 8-hour runtime. For overnight trips, where you will need to run your generator for quite some time or overnight, this is ideal.
Muffler for quiet function. This portable generator has a muffler that reduces the engine noise to a mere 60 dBA (decibels). The DuroStar DS4000s is, without a doubt, one of the quietest generator models available!
Additional Features
Product manual. To make setting up your generator simple, the DuroStar DS4000s comes with a detailed and helpful product manual. Just follow a few basic steps, and your generator will be ready to work!
Oil funnel. Oil changes are sure to go more smoothly with the included oil funnel.
Toolset. This portable generator includes a handy toolset, to help you with the install.
Spark plug wrench. 
Recoil start. All that is takes to start the DuroStar DS4000s is a pull or two on the recoil. Soon, your portable generator will be humming and ready to work.
Fuel gauge. This portable includes a fuel gauge, so you can keep track.
Optional wheel kit. Finally, along with the DuroStar DS4000, you may purchase an optional wheel kit; with this, you can make your generator more portable than ever!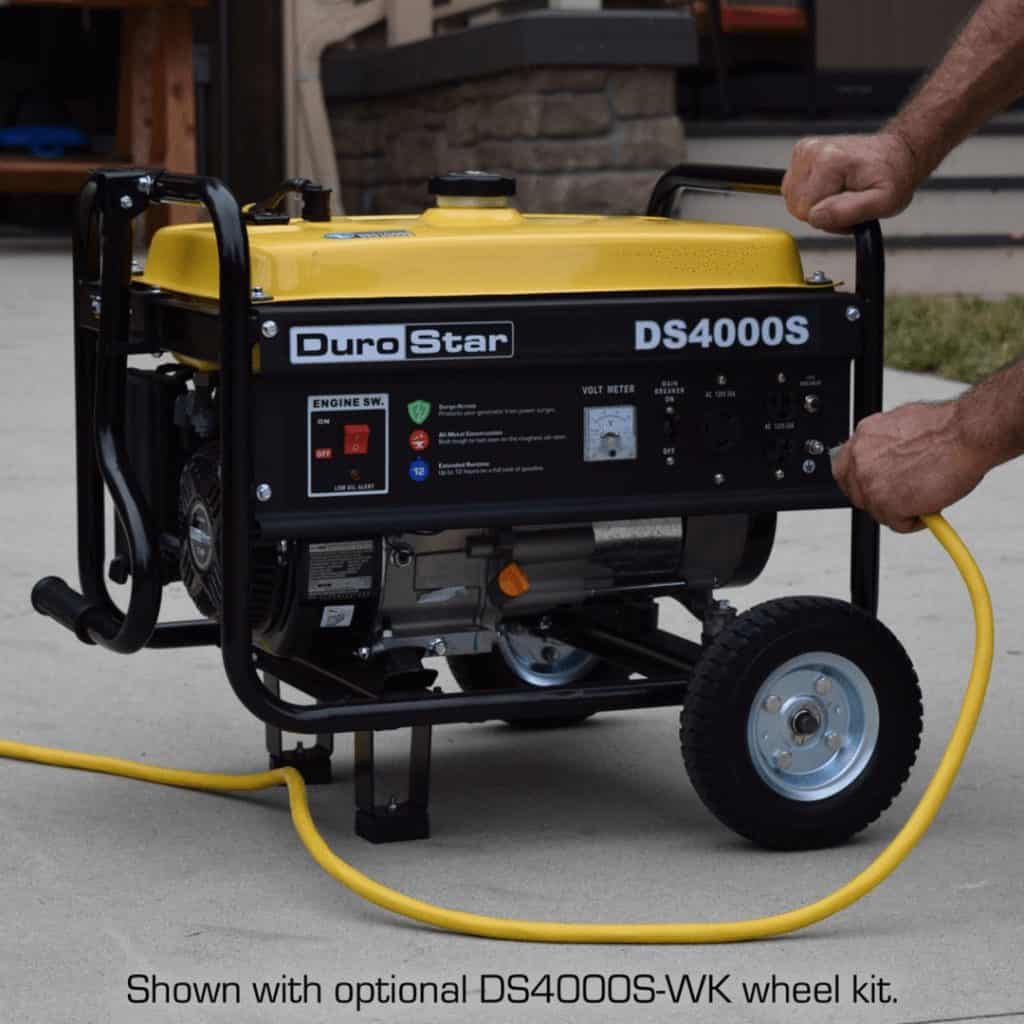 Optional Wheel Kit is Available
Last update on 2021-04-21 / Affiliate links / Images from Amazon Product Advertising API
Fueled By Gasoline
When it comes to generators, gasoline is a classic fuel. It is both affordable and easy to come by. This is just one of the many things that make the DuroStar one of the best budget generators out there, bar none. 
You can obtain gasoline in just about any town, or even at some stores. With gasoline, you will not have to worry about fuel being scarce. The exception is if the gas station shuts down. 
You can, however, store gas, for a short amount of time (3-6 months, when stored properly). In case, of an impending disaster, you can prepare and get in stock. 
The DuroStar DS14000S has a respectably-sized 4-gallon tank. 
What Can You Use A Generator For?
What can you use a portable generator for? Well, what runs on electricity? That's your answer! The most popular uses for portable generators are camping and RV, pleasure boating, mobile detailing work, or as a backup in the home (in case of a power outage). 
With a portable generator, you can access luxuries like heating, light, and music, anytime, anywhere! 
A generator will allow you to bring the comforts of indoors to the outdoors when you camp or RV. Enjoy a cup of hot coffee, quick. Or, cool off by running an air-conditioner in your RV.
Portable generators can run high-amperage power tools, refrigerators, microwaves, and more. 
In an emergency, a portable generator is a lifesaver and will make sure that you are never without vital electricity in your home. No matter the application, a portable generator can be truly indispensable. Just make sure to invest in one of quality… like the DuroStar DS4000s, which is, without a doubt, one of the best!
What Makes the DuroStar DS4000s Such A Fantastic Portable Generator?
User-Friendly Operation
Every good generator should operate conveniently, in a hassle-free manner. The DuroStar DS4000s makes things nice and easy for you by including a detailed user manual.
To start this portable generator, simply fuel-up, check the oil and then pull the recoil. The DuroStar DS4000S portable generator will be alive and thrumming, and providing you with reliable energy, in no time!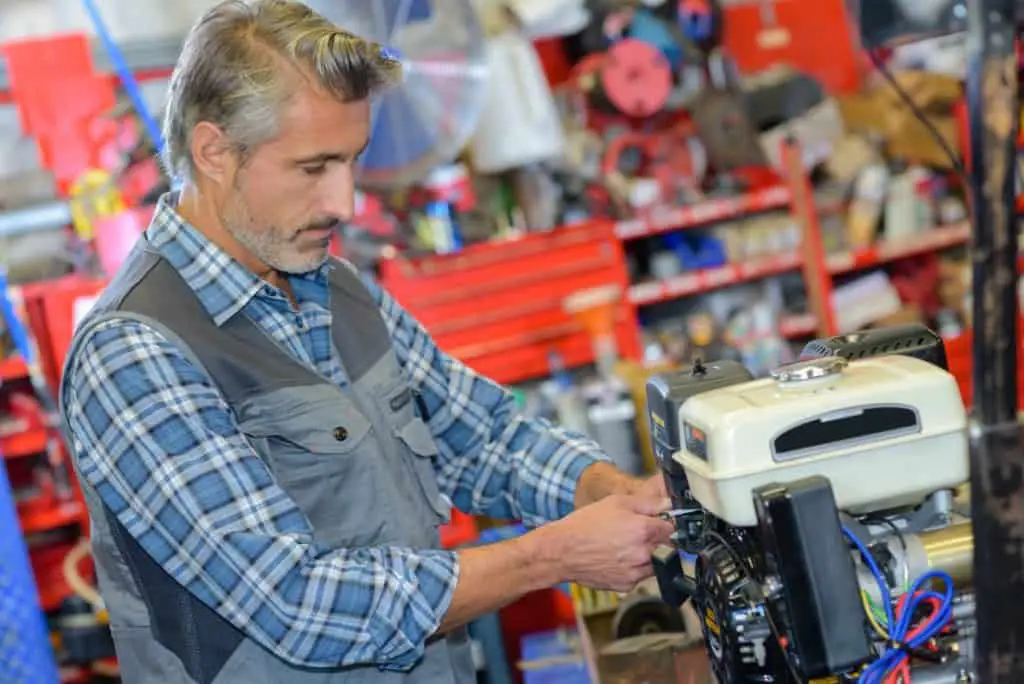 Powerful 7 HP Engine
The DuroStar DS4000s is powered by a state-of-the-art 7 HP engine. This is air-cooled and even includes a low oil shutoff. In summation, is basically maintains itself (with just a bit of basic care). This ultra-powerful engine provides 4000 starting watts, and 3300 running watts of energy. You can use it to charge small devices, or even plug in your refrigerator; this generator can do it all.
Learn the difference between starting and running watts here!
What The DuroStar DS4000s Can Do
The amount of things that you can do with the DuroStar DS4000s is nothing short of incredible. With 3300 running watts, you can power almost any electronic, large or small. 
This includes your computer, a sump pump, a microwave, a window air conditioner, a television, computer or laptop, lights, music, high amperage power tools… the possibilities are endless, really!
You can take your DuroStar with you virtually anywhere, including camping, boating, mobile detailing, home, and RV. 
The DuroStar DS4000 Is Designed To Be Extra Safe
When using any powerful machinery, it is important to look after your safety! The DuroStar DS4000s was clearly designed with this in mind. The portable generator is outfitted with new-gen surge-arrest technology and will power your electronics virtually free of risk.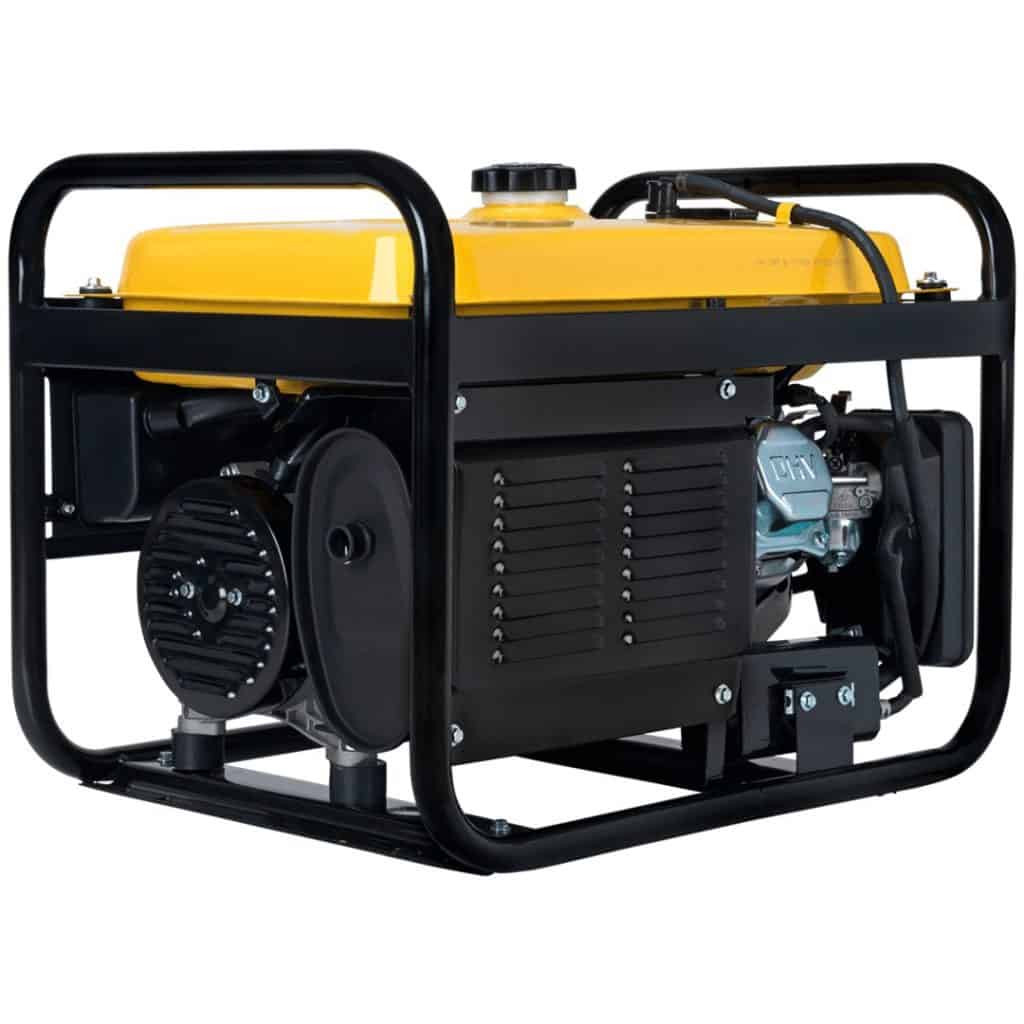 Along with this, the DuroStar DS4000s has a low oil shutoff. This will prevent your generator from running on low oil, which can otherwise cause it to experience technical difficulties, and ultimately, breakdown. The DuroStar will not allow this to happen, which is a really nice feature to have!
F.A.Q
Q: Can you plug a power strip into the DuroStar DS4000s and use multiple things at a time?
A: Yes, of course! The DuroStar is very powerful and versatile. Plug in a power strip, and connect the myriad appliances you desire; just be certain not to exceed the recommended wattage of 3300, or overload may become a risk.
Q: How often should I change the oil in my DuroStar DS4000s portable generator?
A: According to the DuroStar DS4000 manual, the generator oil should be changed once every 20 hours of runtime. Then, you should give your oil the routine check!
Q: How do I get the handcart?
A: The DuroStar wheel and handle kit is optional and called DS4000S-WK.
Conclusion: Durostar DS1400S Portable Generator Review
Built with reliability and power in mind this portable generator will suit a variety of uses from Mobile car detailing to agricultural use.
Backed with a strong Guarantee and safe in the knowledge that this was one of the best selling portable generators in 2020-2021 you can be sure of a quality machine.
There are one or two possible other contenders in our Best Budget Generator guide which you may want to take a look at. But if you're happy to buy the Durostar DS14000S then take a look at the latest prices on Amazon here.
As you can see, the DuroStar DS4000 is a real winner. When it comes to portable generators, it checks every box: convenience, reliability, portability, power… and more.
5 Alternative Generators
Last update on 2021-04-21 / Affiliate links / Images from Amazon Product Advertising API