Whether you're braving the great outdoors or preparing yourself for a potential power outage, a generator can be an important and powerful piece of equipment. In these situations, however, you may need reach that doesn't come as standard for generators. In this article, we will go over the ways to alleviate this problem.
Extension cords are the answer. You can use extension cords on a generator to extend the reach that a generator has to give power to appliances. It is important to note that you must use the correct type of cord to make sure your generator can provide power efficiently and safely.
Name
RV Suitable
Champion 25-Foot 30-Amp 250-Volt Generator Power...
3 Outlets
Yodotek 25 Feet Heavy Duty Generator Adaptor...
General Cord
MPI Tools Nema L14-30 Generator Power Cord 4 Wire...
image



RV Suitable
Name
Champion 25-Foot 30-Amp 250-Volt Generator Power...
image

3 Outlets
Name
Yodotek 25 Feet Heavy Duty Generator Adaptor...
image

General Cord
Name
MPI Tools Nema L14-30 Generator Power Cord 4 Wire...
image

Last update on 2021-04-22 / Affiliate links / Images from Amazon Product Advertising API
What types of cords are suitable for generators?
The right types of cords are very important for your portable generator. If you end up with the wrong type of cord you could end up damaging both your generator and the appliances you are trying to run off it. So it is recommended to seek expert advice to ensure no damage occurs.
Due to most generators being used in a relatively outdoor setting, you're going to want a cord that can withstand the environment. Heavy-duty, durable and weather-resistant cords are going to be the types of cords that will benefit you the most.
You want a cord that's going to be able to withstand the discomfort of the outdoors and keep your appliances powered up for as long as you need.
Extension cord Gauge
The gauge of your extension cord is a crucial aspect to consider when trying to maintain a current to your tools and appliances. In relation to extension cords, the gauge is essentially how thick the wires are. This thickness affects the amount of current the cord can carry along with how much the cord will heat up.
The gauge is shown as a numerical value that is representative of the diameter of the copper wire inside the cord. This will be identifiable by the AWG number, or American Wire Gauge number. Using this number rating system, a smaller value will mean a larger diameter in the wire.
It's important to make sure you have the adequate gauge for the task you need to perform. If you fail to properly size your extension cord it can cause you some serious problems.
One of these problems will be that you can starve your tool of power, this will then cause your tool to try and compensate for this lack of power – even though the gauge simply cannot allow any more current to flow through it.
An outcome of this can be that your extension cord will overheat and potentially cause a fire hazard if it manages to melt through the insulation.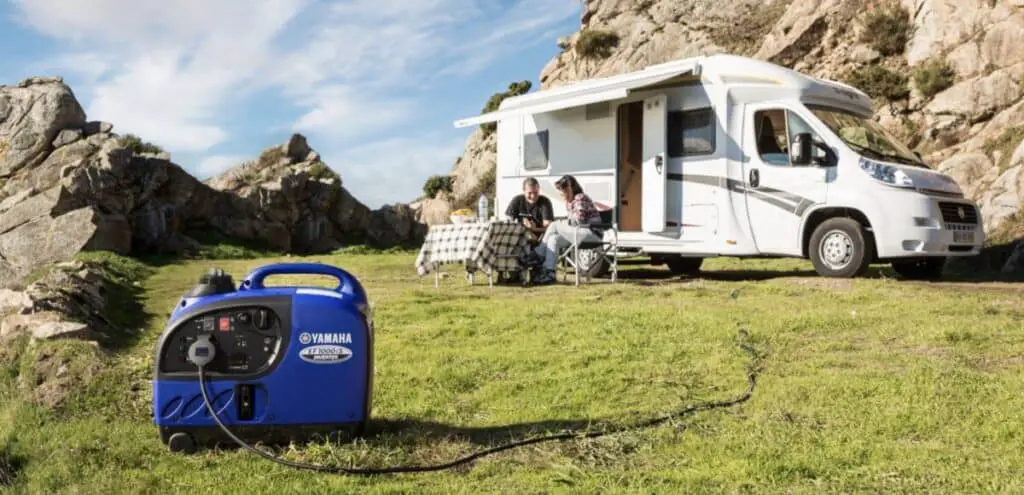 Extension Cord Length
For extension cords, the length is an extremely important factor. In essence, the cord will act as a resistor when you use it to power an appliance or tool. It will carry a current to your tool but as the wire gets longer the resistance will become higher which will result in a drop off in potential voltage output.
When considering length, you are going to want to have your extension cord only as long as you need it for whatever the task is you need to perform. By keeping your extension cord as short as possible you will allow for less of a drop in voltage and a more efficient source of power.
There is also the issue of heat in regard to the cord length. As the length, and resistance in the cord, gets higher, the amount of heat that the cord generates will become greater too.
This will usually not be a problem unless you fail to properly size your cord, but it is still something to consider nonetheless.
How does length affect extension cord ratings?
Length can affect the ratings of an extension cord in a few ways. As we've already touched on, the longer the cord, the higher the drop off in voltage – this being due to a larger resistance.
There is a formula that you can use to calculate the electrical resistance, voltage, or amperage yourself if that's something you'd like to do (V=IR).
To obtain the same output from a longer cord, as opposed to a shorter one, would require more power or for the cord to have thicker wires. This would mean you would have to go from a 14AWG cord to a 12AWG cord and this could end up being more expensive. So, as a general rule, it is better to keep your extension cords only as long as you need them to be.
Generator Power Y-Splitter Cord
You may find yourself in a situation where you need to power more appliances than you have outlets on your generator as standard. This is where having an extension cord with a splitter on the end can be really useful.
By having a cord with more than one output, you can power additional devices and in turn, make more use out of the power your generator can provide for you. This approach could be especially useful if you have to power many smaller appliances.
Portable Generator Outlets
There are quite a few different types of outlets that you can find on generators. You can use a generator to power many different kinds of tools and appliances that will require a wide range of different amps and voltages.
You can have different sockets for a variety of different applications. There are grounded and ungrounded sockets, twist-lock, or straight blade sockets and all of these have different sockets based on the number of amps they output and the voltage they provide.
Provide below is a graphic to help showcase all these different kinds of outlets: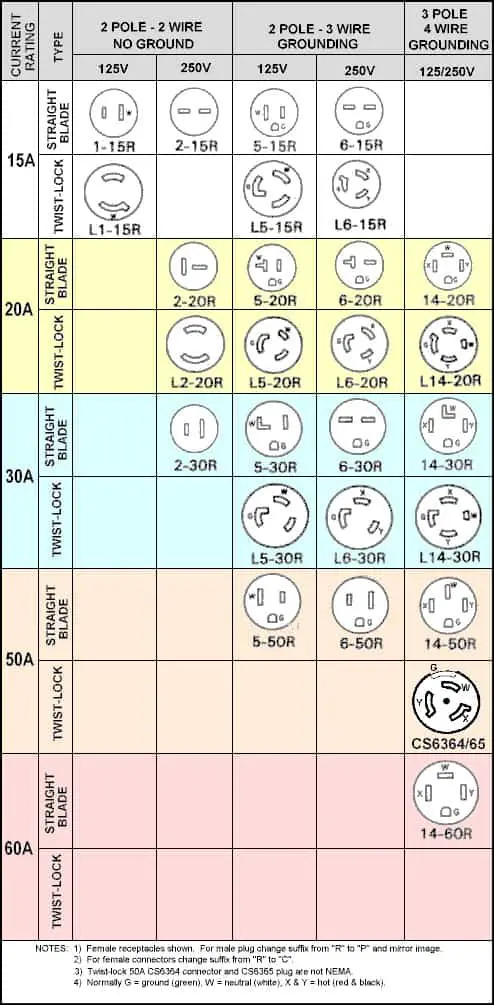 ---
Three Suitable Extension Cords
Great for use in an RV application, this Champion 25 Foot RV Cord hosts a lot of valuable features. A heavy-duty, durable, and weather-resistant cord, the Champion 25ft Generator Power Cord provides the ability to stand up to the wear and tear or regular use. It also has the added bonus of high visibility due to its bright yellow coloring, as well as fast delivery.
We found it to work with now issue even after 3 days of continual use. Even in the case, it stopped working, Champion offers a 1-year limited warranty and lifetime tech support. The only real downside is that some may find the cord ends are a bit smaller to get a good grip on.
Read more customer reviews on Amazon ↗️
---
Yodotek 25 ft 30A Cord offers an extension cord that is well suited to power your household appliances. With 4 outlets, this extension cord can provide power to a host of different devices to make sure you're powered on through any trouble you might have. Provided in the cord is an LED indicator so that you can always tell, at a glance, that your cord is carrying the power you need.
Highly visible and weather and fire-resistant, with the Yodotek you really can't go wrong. On top of this, they offer a 1-year quality guarantee and 3 years of customer service.
Read customer reviews on Amazon ↗️
---
For more general use consider the MPI Tools 20 ft 10 Gauge extender cord. A heavy-duty and weather-resistant cord, the MPI Tools cord is a versatile tool that can run indoors and outdoors and so should be able to be of great assistance in every day or emergency settings.
One downside to the cord is that the coloration can lead to the cord not being as visible in the outdoors as you may like. As you can imagine, in the Fall, the orange color of the cord can sometimes get a little lost in all the leaves that clutter the ground at that time of year.
Read more reviews on Amazon ↗️
---
F.A.Q
Q. Will my extension cord heat up during use?
A. Your extension cord will heat up during use, however if you keep it below the recommended capacity is will only be warm (not hot) and this will be perfectly safe to use.
---
Q. Can I attach 2 cords together to make 1 longer cord?
A. You can combine 2 cords to make 1 longer cord, however, you should bear in mind that this will increase the resistance, voltage drop, and the heat of the cord. Make sure to check that you will still meet the amperage your tools require and to seal the new connection if you are expecting wet conditions. It is more likely safer and more efficient to buy 1 cord that is the length you require.
---
Q. Will the weather change the flexibility of my cord?
A. The weather will have an effect on the flexibility of your cord. Generally, colder weather will result in a stiffer cord that is harder to move and so, inversely, warmer weather will allow your cord to be moved more freely.
---
Q. Can I run my generator with no load?
A. You should not run your generator with no load. Most generators need a minimum amount of load to run properly which should be met or it may cause problems that can include failure and damage.
---
Final Thoughts
To summarise, you can use an extension cord on a generator. The kind of cord you use is up to you and the purpose that you require it for, as well as the power that you want to transfer with it.
Of the extension cords we have reviewed, the one that will be most useful to the largest amount of people would have to be the MPI Tools extension cord. It offers great power transfer and high durability that will provide most people with the ability to power whatever they may need for as long as they may need.