When a birthday or other special events come up there is nothing quite like creating a carnival atmosphere for your child and a handful of their best friends and relatives to celebrate in. Cotton candy, games with prizes, and of course that staple that's always fun for everyone, the Bounce House.
These memorable occasions generate a lot of pictures and provide nostalgia for many years to come, but they do require a little bit of homework on your part if everything is going to run smoothly.
The good news is that we've got you covered when it comes to the basics of supplying a bit of party-power for your celebration venue's needs.
The bad news is that there will be a little math involved.
If you want to skip the review, the Westinghouse 12000 Watt will be perfect and for home use and we recommend the Wen 2000 watt. Links here will take you to the cheapest ones on Amazon. ↗️
Don't worry though, we'll keep it to a minimum. Today we'll talk about the basics of selecting the best generator for inflatables and Bouncy Houses so that you can make an informed decision for how you are going to power that most memorable of parties.
Without further ado, let's get this party started!
So, what kind of generator do they use for commercial Bouncy Houses?
The first thought that might come to your mind is to wonder what kind of generator is used by professional bounce-house suppliers. This sounds reasonable but is actually a bit of overkill and we'll tell you why. First, it starts with the Bounce House materials.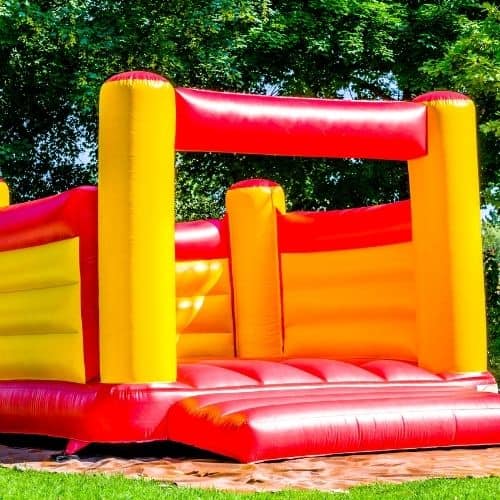 Professional grade Bounce Houses are designed to be re-used more often than your average Bounce House. This means that the materials which they are made of are going to be different, with your average 'residential' Bounce House being made of heavy duty nylon or polyester but a commercial grade Bounce House is typically heavy duty PVC.
While you could certainly just ask a commercial vendor what they are using, odds are that this would be a bit of overkill since the heavier VPC and blower that they are using is going to require an appreciable amount of more wattage.
That means we are going to need to figure out a few variables so that we can determine the best generator for the job.
Can't you just run a Bouncy House with a solar-powered battery-based generator?
Let's go over the viability of using that old camping generator that you've probably got in the garage. Is it going to be up to spec when running a Bounce House?
For example, let's assume that you are using the Rockpals 250-Watt Portable Generator, which comes with the following specs and features:
250 running watts and 300 surge watts
Overcharge protection
5.5 pound weight (standard small camping generator)
We've just given you a quick glimpse of specs because we don't really need to know much more. The running watts and the surge watts are insufficient.
Even a very small Bounce House is going to require something in the neighborhood of 800 watts to keep running, with its small 1 horsepower blower, and it will need more than twice that for the surge watts just to get started.
Simply put, these little generators are good for camping lights and maybe a stereo but they aren't going to cut it with a Bounce House.
What about an inverter generator?
An inverter generator is an option that you can go with, provided that you have the sufficient wattage required. Most home inverter generators have a wattage anywhere between 3500 and 7500 watts and this might well be sufficient for your needs.
Ultimately you are going to need to deduce those needs, however, so as unpopular as this answer will be we have to say it.
You're going to need to do some math. Click here to use our generator calculator.
Suitable home size Generators
Make & Model
Budget Option
Pulsar G2319N 2,300W Portable
Image
Size
19.70 x 11.22 x 17.91 inches
19.70 x 11.22 x 17.91 inches
22.05 x 13.98 x 20.87 inches
Image
Size
19.70 x 11.22 x 17.91 inches
Budget Option
Make & Model
Pulsar G2319N 2,300W Portable
Image
Size
19.70 x 11.22 x 17.91 inches
Image
Size
22.05 x 13.98 x 20.87 inches
Last update on 2021-04-28 / Affiliate links / Images from Amazon Product Advertising API
---
Suitable Commercial size gens
Lowest Price
Maximum Power
Model
DuroMax XP4850EH Generator-4850 Watt Gas or...
DuroMax XP12000EH Generator-12000 Watt Gas or...
Lowest Price
Model
DuroMax XP4850EH Generator-4850 Watt Gas or...
Maximum Power
Model
DuroMax XP12000EH Generator-12000 Watt Gas or...
Last update on 2021-04-29 / Affiliate links / Images from Amazon Product Advertising API
Will you be using the generator for more than just the bouncy house?
If you are unable to simply plug in what you need for the bouncy house then it is likely that there is more than one thing that you are going to need to power.
By the way, this is a good time for us to stress an important rule. If you are not placing the Bounce House within 50 feet of an outlet then a generator is required.
Long extension cables are asking for trouble so it's best to keep to that rule. Now, since you are reading this article we're assuming you've already thought of that so let's consider what all we will be powering.
While you will want to check the specs on the items, here are some ballpark figures for various items. We'll give you the running watts and the surge watts (we'll explain surge watts shortly):
A standard Box fan requires 300 running watts and 600 surge watts
A small Bounce House with a 1 horsepower blower takes around 800 watts and 1950 surge watts
A large television takes 500 watts but requires no surge watts
Arcade games use about 200 watts each but require no surge watts
This gives you a general idea of where we are going. You'll need to determine the total of your overall watts and the highest value of surge watts. Let's explore this in a little more detail.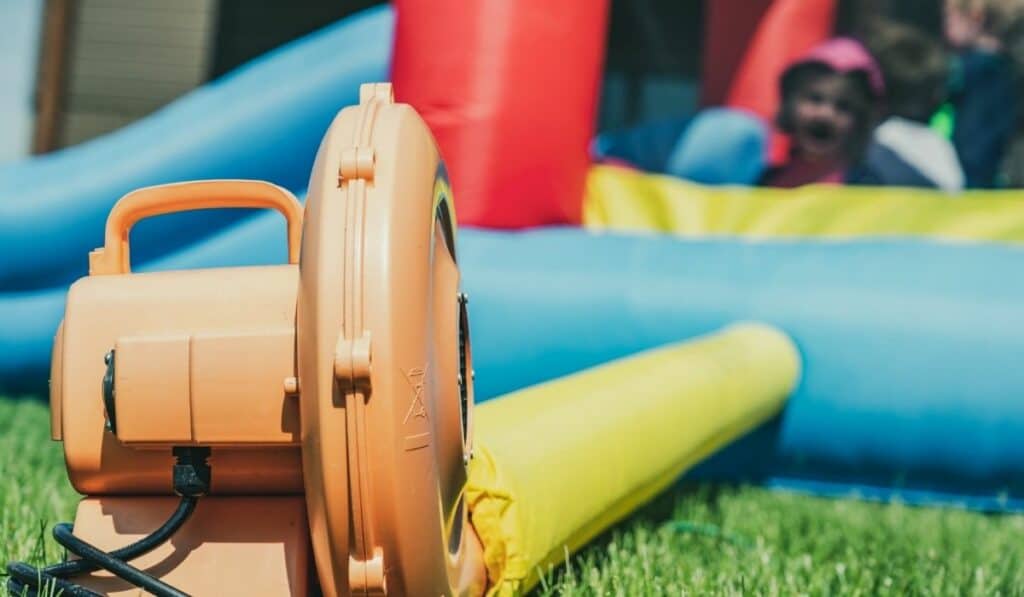 DREAMVAN Air Blower for Inflatables- Inflatable...
☀️【Powerful Inflatable Bouncer Blower】- The air pump is equipped with rated power 450W and 0.6...
☀️【Safe Design】- The electric air blower has a clear cover on the switch, which is safe enough for you...
☀️【Easy to Use】- The inflatable air pump just put the inflatable head at the filling hold, then press...
☀️【Low Noise and Portable】- The inflatable mattress pump uses an advanced wheel design and...
☀️【Quality Assurance】- 1-year warranty and lifetime support provided by Sailnovo, free replacement if...
Last update on 2021-04-29 / Affiliate links / Images from Amazon Product Advertising API
Generator math: It's all about the watts
Ultimately it's going to boil down to wattage and 'surge watts'. Surge watts are the wattage that is required to cycle or power on something.
Once you've got a list of all of the items that you will be powering, as far as standard watts and surge watts required, then you'll need to add up the standard 'running' watts. Surge watts are different, so for those you just need the highest value.
Let's go with an example. Say, for instance, that you are going to power the following items:
Bounce House with a running wattage 1500 and a surge watt value of 2000
One cotton candy machine with a running wattage of 2100 and 0 surge watts
An inflatable slide with a 2 horsepower blower and 1600 running watts and 2000 surge watts
If we total up our running watts then we get 5200 watts. The highest value of surge watts is 2000, so we will need to add that to the total of the running watts.
The value comes to 7200 watts, so we will a generator capable of covering 7200 watts to cover running and startup/cycle.  A 7500 watt generator is ideal in this case.
Now, there is one thing that we need to mention because this can be very annoying, but generators typically have 2 20-amp breakers and this is going to limit the number of things which you can plug into it. So if your list includes a lot of items then you might need more generators.
We had to be the bearer of bad tidings but this is something you need to be very aware of.
Estimating the cost of your generator
If you are just renting the Bounce House instead of investing in one that you can rent out later, then renting a generator is one of your options. The costs involved in this may vary but here is a ballpark figure:
2000 watt – $70
3000 watt – $90
7500 watt – $150
These are the costs for daily rental, so if you are just setting up a day a single event then this will get you covered for the day. If you have a large family, though, and might want to use a generator for other events (camping is one great example where a generator comes in quite handy) then you might consider the cost effectiveness of owning you own.
Lots of things need power and if you should need it for another bouncy house or simply a camping weekend, it's great to know you won't have to anything more than the math of required wattage. Just something to consider!
Additional generator concerns and considerations
Now that you know the wattage that's required and an approximation in cost, there are a few other quick things you'll want to consider such as these:
Where will you store it while in use? You'll want to make sure that it's somewhere cool and relatively shaded, unless you need it in the sun for power reasons.
Solar or gas powered? Gas gives you more power but depending on how long you will need to run it you may need to refill the generator a time or two. Solar is a possibility but you will need to determine if it is capable of generating enough power to cover your needs. Many solar generators will not meet the exacting specs required.
Is the generator portable enough that you can get it to where you need it with relative ease?
Some final words
As you can see, it ultimately boils down to your wattage requirements and knowing those important surge watts. As long as you've got these covered and have selected a generator that can cover a bit over your required range then things should be golden.
Just remember to have some extra fuel stored safely on-hand and don't forget that amp and breaker limit to plugged-in items.
After that you are ready to make some memories that your family and friends will always treasure. Good luck and we wish you the best!