There is no denying that in today's modern age, technology has a substantial involvement in most daily lives and as a result, steps need to be taken to ensure that your electrical items are safe from damage when used on a generator. This is in part due to the need for convenience but also due to the financial cost of replacing a damaged appliance.
Mobile phones, laptops/PC's for work (especially with the global rise in remote working), smart technology, and of course, the essential home appliances such as refrigeration and lighting all need a reliable source of power in case of a power outage or for use off the grid.
Therefore, how can you make a generator safe for electronics?
To make a generator safe for electronics you should reduce power surges by using an inverter generator that produces clean energy as a primary step. Even with an inverter generator, you can further improve the safety measures by adding a surge protector and an uninterruptable power supply (UPS) to further prevent damaging power surges.
The key to making a generator safe for electronics is to provide clean, uninterrupted power which is crucial for your more expensive/sensitive electronics like mobile phones and laptops.
In this article, we will run you through all the steps needed to make your generator safe for electronics as well as some factors that could potentially damage your more valuable items.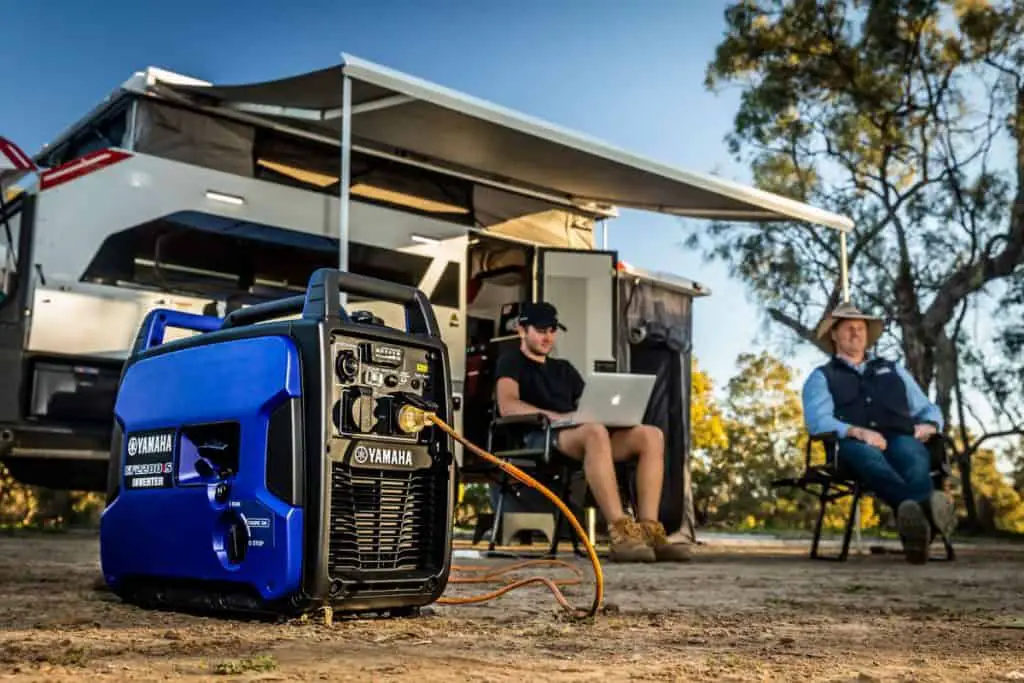 How to Make a Generator Safe for Electronics
Most gas powered generators are manufactured to provide a power source to key appliances during power cuts or for off-road and off-grid use.
If however, you don't understand the specs of a generator, you might not be aware that the electricity running from them is not necessarily the same as when you are connected to the grid (depending on your location of course as power outages or surges can be common in certain areas).
For your generator to safely power most modern technology and appliances, you need the power supply to run clean energy which means you can't have fluctuations or surges, otherwise known as dirty power.
These power fluctuations are definitely something that could overload and damage microchips or circuit boards for your devices and can be more likely to happen when using a non-inverter generator. 
Use an Inverter Generator
One of the first things you should look to do when making a generator safe for electronics is to use an inverter generator. An inverter generator has a dedicated cylinder separate from the motor which regulates the speed of the electricity supplied to your appliances.
This essentially means that the electricity provided by an inverter generator is constant which is where the term clean electricity comes from.
Most modern appliances and in particular, sensitive electronics that use micro and nanochips or have sensitive circuitry (smart technology) are highly susceptibly to damage if used on dirty power which could cause a spike or surge that overloads this sensitive technology.
Computer Safe Generators
Bestseller No. 1
Newpowa Portable Power Station, 280WH Backup...
🔋 ETL CERTIFIED: 280Wh 77000mah Heavy Duty Lithium pack, extended Life-Span & Operation Hours, Light weight...
☀️ SOLAR CHARGING: Compatible with Newpowa 60W 12V Foldable & 100W Portable Solar Panel
🔌 VERSATILE OUTLETS: Pure Sine Wave AC 110V 300W, DC, USB & Type C , Cigarette lighter 12V. Perfect for...
📦 PACKAGE INCLUDE: Solar Powerbank, AC Charging Power Adapter, Cigarette Lighter Charging Cable, User...
🛡️ 1 YEAR WARRANTY: Lifetime 24*7 friendly customer service, and a 12 months product warranty
Bestseller No. 2
Bestseller No. 3
EF ECOFLOW Portable Power Station RIVER, 288Wh...
⚡【3 x AC OUTLETS AND 288Wh CAPACITY SOLAR GENERATOR】 The RIVER portable power station can power up to 10...
⚡【RECHARGE FROM 0% TO 80% WITHIN 1 HOUR】 With EcoFlow's patented X-Stream Technology, the smart...
⚡【COMPATIBLE WITH 80% of HOME APPLIANCES】 The X-Boost Technology's advanced built-in algorithm enables...
⚡ 【FIT YOUR NEEDS, NOW AND LATER】 Double the capacity from 288Wh to 576Wh with Extra Battery, the...
⚡【24 MONTHS PRODUCT GUARANTEE】 EcoFlow offers a 24*7 friendly customer service, and a 24 months product...
Last update on 2021-04-21 / Affiliate links / Images from Amazon Product Advertising API
Therefore, in order to protect against this, an inverter generator will regulate power output and speed in order to prevent power spikes or surges.
With this said, however, even an inverter generator cannot fully protect against power surges if you overload the generator with too many appliances or let it run out of fuel.
To further protect your electronics, it's essential to have some further backup measures in place.
Surge Protector
A surge protector strip is a relatively inexpensive but highly valuable product that can help protect your sensitive products from power surges. A surge protector strip looks similar to a simple 4-way extension pack or cable which allows multiple items to be plugged into a single supply source.
While the two may look similar, a surge strip and power pack are two completely different items in terms of functionality. Most surge strips will have the functionality to connect multiple electronic devices however the key difference is that a surge strip will prevent unexpected fluctuations (surges) in power and help to protect your sensitive electronic devices.
Last update on 2021-04-21 / Affiliate links / Images from Amazon Product Advertising API
Surge strips are connected to a generator and then you can connect your more sensitive, low output items to this as an added layer of protection against a power surge from the generator.
These were first popularized for use with home computers and therefore laptops, PC's, mobile phones and other sensitive items are best used with a surge protector as a way to increase the safety of the item when used with a generator.
Uninterruptable Power Supply (UPS)
An uninterruptable power supply is another way to regulate the power supply to your electronic devices. A UPS stores up power and will supply a clean supply through a backup battery during power outages or surges.
The UPS adds another layer of protection from unstable power supply however they are a short term solution and do not supply an extended source of power. Certain generators do not support a UPS either so It's important to check product compatibility when looking to utilize a UPS.
In Summary:
As you can see, keeping your electronics safe when using a generator can actually be something that requires some preventative measures being put in place, especially when using more sensitive electrical items that are common with modern technology.
In order to keep your electronics safe when being used on a generator, you should ensure that the generator provides clean, uninterrupted energy and therefore an inverter generator is the ideal solution.
In order to further increase the safety measurements, you should also make use of a surge protector strip and UPS in order to protect your items for a wide range of power fluctuations or faults and as long as you follow these steps, your electronic items should be safe when used with a generator.