This post contains affiliate links. As an Amazon Associate I earn from qualifying purchases. Please read my Privacy Poilcy for more details about affiliate links.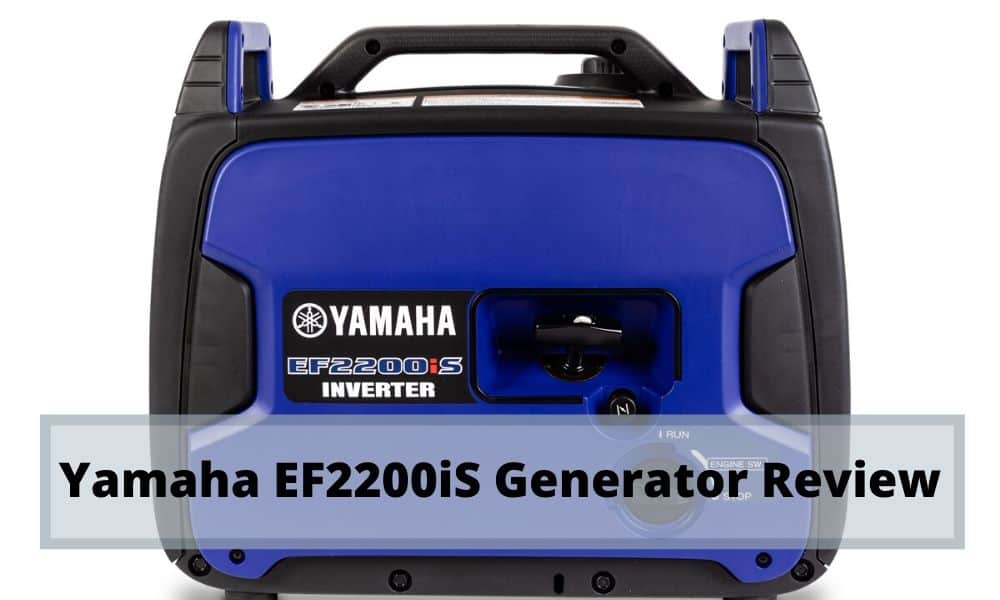 The Yamaha model EF2200iS generator is a classic inverter generator by a well-known brand. We'll share the technical specifications about this model before outlining the pros and cons about this portable generator. We'll also share a number of observations that may influence your purchasing decision but are not a clear pro or con.
No wonder it features in our: TOP 10 Budget Portable Generator Review.
Performance under full load
92%
YAMAHA EF2200iS Inverter Generator, 2200 Watts,...
Powerful Yamaha 79cc Engine - Provides high power output.
Yamaha Quiet Technology - Outfitted with Yamaha sophisticated muffler for quiet operation.
Standard RV Outlet - No more searching for the right adapter. DC Outlet - Flexibility to charge and use...
Illuminated Multi-Function LED Display - See generator status at a glance both day and night.
Smart Dial Knob - Simple and easy start-up. Smart Throttle - Automatic load sensing adjusts power to device...
Last update on 2021-04-21 / Affiliate links / Images from Amazon Product Advertising API
Yamaha EF2200iS Generator Specifications
Let's take a look at some of the important technical information you'll need to know before considering purchasing a Yamaha EF2200iS Generator.
This unit is driven by a 79 cc, MZ80 engine. This air-cooled single cylinder engine is known for its reliability. The motor puts out 1800 watts of continuous power. The built-in inverter allows it to meet 2200 watt surges. 
It can handle 30 second surges but not an extended 3 minute load. That means it can run a 1500 watt space heater but not a 2000 watt air conditioner. You could start up an 1800 watt window AC but not maintain a 2100 watt steady load.
The Yamaha EF2200iS generator will last up to ten hours at a one quarter load. (It has an estimated 0.12 gallon per hour fuel consumption rate at a 25 percent load). The most fuel efficient generators on the market is 0.08 gallons per hour at a quarter load, but they cost a lot more than this Yamaha generator does.
Expect it to run two to three hours on a single tank of gas if operating under a full load. 
The Pulse Width Modulation and built-in inverter allow it to provide high quality power that won't burn out your sensitive electronics. 
Know that the inverter built into this generator cannot act as a backup battery; it won't keep the lantern going for an hour after the generator is turned off.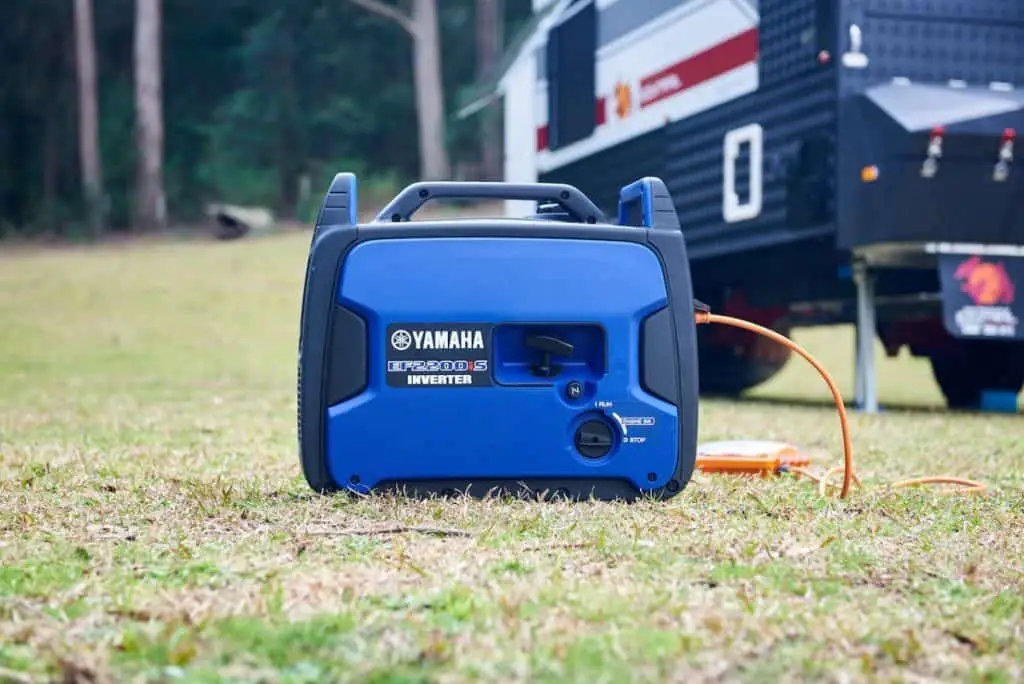 It has a TT-30R RV outlet as well as standard DC outlet. It can deliver 3 amps at 12 volts. Other generators require you to buy a separate adapter to get this functionality. However, it lacks an AC plug. 
You're going to have to buy a converter if you want this generator to power a blender or microwave oven. Yet it has a 12V 3A receptacle that makes it easy to recharge your house batteries. 
Very few generators give you a 30A RV plug.
The Yamaha EF2200iS has a better than average muffler to dampen the noise it creates. It is rated to 65 dB, assuming it is running at a quarter load and sitting about ten feet away. 
The manufacturer argues that it can be as quiet as 57 decibels. Honda generators are often quieter when operating under the same load. 
The difference can be as great as 10 dB. And that's a difference you'll notice at night, though you can make up for it by placing the generator that much further from the RV.
There is a basic LED control panel. It has bright LEDs behind it to make it easy to read day or night. It is controlled by a "smart" dial knob. 
There is relatively little to control because it can automatically adjust the engine based on the load. 
The fuel gauge is straightforward. You can reset it by pushing a button; that's a step up from other models that force you to turn off the unit to restart it.
Portability & Weight-Size
The Yamaha EF2200iS generator is unusual for having tri-handles. It has one long handle for single handed carry along the middle of the generator in addition to handles on each of the two ends. However, there is no protective frame nor wheels to let you pull it around or mount it on a trailer.
The unit is quite portable, though the compact design has its disadvantages. For example, it has a modest 1.24 gallon fuel tank. (that takes up a large portion of the generator's volume). 
The generator itself is 22 inches long, 12 inches wide and 18.5 inches tall. It weighs roughly 55 pounds when the fuel tank is empty. That means you can fit it in almost any storage compartment. 
Few generators in the class are lighter. For example, Wen, make an equally powerful generator that weighs just under forty pounds. Yet that generator isn't as easily carried by one or two people.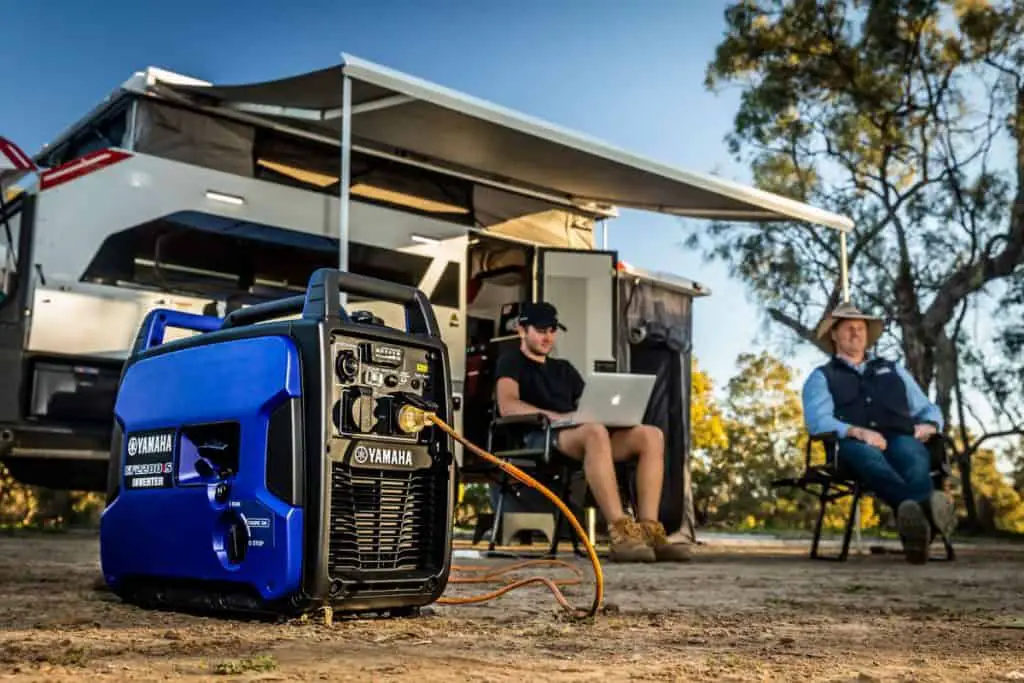 The Yamaha EF2200iS  portable generator has the standard suite of safety features. It automatically shuts off if the oil is too low. 
It has a standard circuit breaker for overload protection. The display will tell you when the generator is overloaded before it shuts down. It does not have temperature sensors and a number of advanced safety features that protect new RV owners from themselves when they make mistakes. 
For example, it doesn't have GFCI outlets. That critical if you're working around water or using the generator where it is exposed to the rain. This also means the generator needs to be protected from the elements. It certainly isn't suitable for use on a boat.
Strengths of the Yamaha EF2200iS Generator
The Yamaha EF2200iS generator has a standard RV outlet. This DC outlet eliminates the need to find an adapter to connect the generator to your RV. That makes the Yamaha model EF220iS generator a great choice for RV owners.
After you pull to start it, nearly all of the controls go through a simple control button and LED interface. This is far simpler to use than some inverter generators that can be as hard to program and adjust as a microwave. 
Note that the lack of an AC plug means you can't plug in your microwave to the generator unless you have a DC to AC power converter. That has to be bought separately from the generator if you don't already have one.
This unit is easier than average to maintain. For example, draining oil from the Yamaha generator's carburetor is a simple process. Nor do you need special tools to access the engine compartment; making it easy to remove the spark arrestor for cleaning. This dramatically simplifies maintenance for this Yamaha portable generator.
The lights built into the display allow you to read the control panel and fuel gauge in low light conditions. Furthermore, the display is large enough that you won't need to put on reading glasses to read it.
The two different sets of handles and relatively light body means a single person can often carry it from point A to point B. However, there are no wheels built into it, and there isn't a wheel kit designed specifically for this Yamaha generator.
Key Features
● Portable: The Yamaha EF2200iS generator is lightweight, with compact casing. This makes it easy to carry and perfect for travel. There is even a handle, molded to the case for a streamlined design.
● Adaptors: Doesn't require special adapters for RV owners
● Visual alerts: For safety, this generator has visual alerts. These are eye-catching and clear; you can't miss them! The alerts appear when the oil is low, when the generator is overloaded, and when it is ready to work.
● Low oil shutdown: To avoid any damage to the unit, this generator also has an automatic shut down in the case of low oil.
● User-friendly: The smart control dial on the Yamaha EF2200iS makes it easy to control and set your optimal power settings.
● Overload protection: To preserve the unit, and any plugged-in devices, this unit comes with a circuit breaker. This will serve as overload protection and help keep everything secure.
● Quiet function: This generator is known for its low noise-emission (only about 57-60 db). Check out the sound rating in our TOP 10 Quietest Generator Review.
● Inverter: Inverter generators are gentle with delicate electronics, fuel-efficient, quiet, and are generally some of the best of their kind available.
● Perfect for emergencies: This generator can serve as a lifesaving backup in the case of a storm, earthquake, power outage, or the like. With this unit, you can keep lights and heat on, warm your food, and more. Knowing that you will always be able to access these necessities is a great way to stay calm.
● Warranty: 3-year limited warranty – must be taken to their approved service centers.
Weaknesses of the Yamaha EF2200iS Generator
You need to connect two generators in parallel to get 30 amps out of the 120 volt outlet. There is conflicting information on whether two generators together can deliver 30 amps via a 220 volt plug. 
And this Yamaha generator may not be compatible with other models by the same manufacturer, though there is conflicting information on whether you can connect a Yamaha generator of the same wattage in parallel.
Because of its relatively stable waveform power, it delivers the 3 percent or lower, total harmonic distortion level that makes it safe for recharging smart phones and laptop computers. On the other hand, it lacks a USB charging port. There is no AC power plug on this generator, either.
Yamaha engines are rather fuel efficient, but this generator does not meet CARB emission ratings that would allow you to buy it in California. 
Nor does it meet the strict noise standards required to take it into the national parks. Furthermore, it doesn't meet EPA emission rules required for running it in certain areas. Yet it does have a spark arrestor, and that means you can run it in wooded areas that put restrictions on generators due to the fire hazard.
To meet the strictest noise levels of some parks, we would suggest a Portable Power Station, which are almost silent in operation but offer less power. See our complete guide for more details.
Run time: 10 Hours 25% load
Fuel tank capacity: 1.1 gallons
Noise level: 51-67 db depending on load
Weight: 55 pounds
Dimensions: 22 x 12 x 18.5 inches
Outlets: DC Outlets 3 Amps 12 V, RV Ready
Material: plastic
Rating: AC Output 1800 Watts Max AC Current 15/18.3 Amps @120V
Engine: OHV, Air-Cooled Single Cylinder 4 Stroke 79cc
Starting method: Pull Cord
Safety Feature: Auto low oil shut off, Quick Start overload button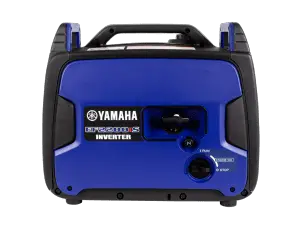 The all new LED Illuminated Control Panel makes it easy to check the status of the Yamaha EF2200iS generator both day and night. The control panel features a multi-function display as well as an illumination light that cascades over the entire control face of the unit for easier low light operation.
Integrated into the control panel is a regulated DC socket outlet allowing more devices to easily connect to the generator.
What our customers had to say
One customer experienced a power outage in a hurricane, and they were very impressed with the Yamaha EF2200is. Not only was it able to power their lights, but also the cable internet modem and Wi-Fi router, a refrigerator and small freezer, a desktop PC, fans, and a hot plate and microwave, all at once. They were able to control the temperature, enjoy warm food, and watch TV.
This is not just survival, this is survival in comfort and luxury… something a quality generator can provide.
Other customers appreciated how lightweight this generator is, and portable. Its quiet function is another popular feature. A few also mentioned that the Yamaha was nice and easy to start on the first pull.
The unit also has a fairly good run time on full load but performed better on 25% load which ran for over 10 hours. 
Read what Amazon Customers in the US had to say about the Yamaha EF2200IS 
Our observations about the Yamaha EF2200iS Generator
This portable generator can be connected with a second model EF2200iS model. However, you have to buy a separate Twin Tech cable to connect them in parallel. This costs around fifty dollars. Depending on where you buy the generator, you might get a discount on the cable. Be very careful about exceeding the base load.
While a single EF220iS generator may handle a 2200 watt surge, don't assume that 2 generators will handle a 4400 watt surge.
The standard list price for this portable generator by Yamaha is around a thousand dollars. While you can find cheaper portable generators, you're getting a generator with greater reliability and better safety features.
It has a smart dial button for the startup process. Unfortunately, it does require you to pull on a cord to get it started. That is a problem for many, though it's not as difficult as most to get going. 
Fortunately, there are no complaints about this generator's pull string breaking or failing to start the generator after half a dozen tries. On the flip-side, there are generators that rely on a push button that won't work if the battery for the starter is dead. That's not an issue with this generator, since it relies on a pull-cord.
There is no data center. However, that level of data collection and analysis rarely matters unless your inverter is connected to solar panels and acting as a power management center.
Yamaha's warranty sends you to their authorized repair centers for work. A common issue for owners is how few Yamaha repair centers there are. It is unlikely that you'll find one in driving distance of your home. And given the weight of the generator, shipping it could be considered prohibitive. 
Registering it for the warranty can be a hassle, too, because the website for that doesn't always work. The manufacturer provides a limited three year warranty. On the other hand, Yamaha provides a number of affordable, branded accessories. We've mentioned the parallel cable required to connect two generators together to handle a 3000 watt load. 
You can pick up generator covers, engine meters and wheel kits made by the manufacturer. That eliminates a lot of the guess work and risk that comes with buying third party accessories.
Note that while there are remote start kits available from Yamaha, they won't work with this generator. Replacement filters and spare parts are readily available online, as well. You can even pick up Yamaha branded fuel stabilizer and oil change kits, though the generator can be maintained with off the shelf lubricants. 
Yamaha sells tune-up kits that make maintenance of the generator a simple do-it-yourself job.
One point in favor of Yamaha generators in general is that it is plug-and-play with so many other pieces of equipment. Whether you're looking at load testers or cables, there is a fair chance the other Yamaha hardware you have will work with this generator.
The rugged blue case can take a lot of abuse. The greater problem is the screws used to hold everything together. Yamaha doesn't glue the screws down. If you're using the generator regularly, the screws can vibrate loose. The solution is to regularly tighten them down. After a few years of use, you do run the risk of the screws getting stripped. 
You can try to glue some of the screws in place. Note that this isn't going to be a warranty repair, since it takes so long to become a problem.
Key Takeaways from testing the Yamaha EF2200is
• The value is more important than the up-front cost
• A wide array of manufacturer accessories and off the shelf components
• Service under the warranty can be a hassle
• The simple control system doesn't eliminate the pull-cord to start it
Alternatives to the Yamaha EF2200iS

Editors Choice


High Wattage


Quietest Model

Title
Briggs & Stratton 30545 P3000
Run Time per tank
7 Hours half load-12.5 hrs 25% load
9 Hrs Gas & 11 Hrs Propane full tanks
Up To 18 Hour Run Time. 3.4 Gal Fuel Tank
Wattage
Starting 3800W - Continuous 3400W
3500 Surge & 3000 Watts Running
4,400 starting watts and 3,500 running
4750 starting watts, 3800 running
3700 Rated Watts and 4500 Peak Watts
Number of outlets
(2) three-prong 120V receptacles, (1) AC 120V NEMA TT-30R RV receptacle, (1) 12V DC receptacle, (1) 5V USB port, a digital load and fuel display
(4) 120V Household Outlets (1) 12V-5A, DC Outlet (1) USB Port (1) Parallel Port,LCD Display
2 x 120v 20A Household sockets, 1 x 120/240v 30A Twist lock
1 x 120V 30A RV, 1 x 120V 30A locking, two 120V 20A household outlets
(2) 120V Outlets; (1) TT-30R RV Outlet; (2) USB Ports
Editors Choice

Run Time per tank
7 Hours half load-12.5 hrs 25% load
Wattage
Starting 3800W - Continuous 3400W
Number of outlets
(2) three-prong 120V receptacles, (1) AC 120V NEMA TT-30R RV receptacle, (1) 12V DC receptacle, (1) 5V USB port, a digital load and fuel display

Title
Briggs & Stratton 30545 P3000
Wattage
3500 Surge & 3000 Watts Running
Number of outlets
(4) 120V Household Outlets (1) 12V-5A, DC Outlet (1) USB Port (1) Parallel Port,LCD Display
High Wattage

Wattage
4,400 starting watts and 3,500 running
Number of outlets
2 x 120v 20A Household sockets, 1 x 120/240v 30A Twist lock

Run Time per tank
9 Hrs Gas & 11 Hrs Propane full tanks
Wattage
4750 starting watts, 3800 running
Number of outlets
1 x 120V 30A RV, 1 x 120V 30A locking, two 120V 20A household outlets
Quietest Model

Run Time per tank
Up To 18 Hour Run Time. 3.4 Gal Fuel Tank
Wattage
3700 Rated Watts and 4500 Peak Watts
Number of outlets
(2) 120V Outlets; (1) TT-30R RV Outlet; (2) USB Ports
Last update on 2021-04-21 / Affiliate links / Images from Amazon Product Advertising API
Final Thoughts: Yamaha EF2200iS Generator Review
The Yamaha EF2200iS generator is an excellent choice for RVers. It has plugs designed just for them that you rarely find in such a lightweight, portable generator. While it isn't the cheapest generator available, it offers a rugged design, excellent reliability and the option for most owners to fix minor issues themselves.
Amazons TOP 5 Best Selling Generators 2020
Last update on 2021-04-21 / Affiliate links / Images from Amazon Product Advertising API
All the article on Oofgrid offer help and practical advice for using and purchasing a portable generator. However, We are enthusiasts and not qualified electricians. Always seek professional advice when working with electrical or Petrol appliances.