Power banks are an incredible solution to charge a smartphone using a portable source of power. For busy people or those on the go, as well as university students on long hours- the power bank makes life so much easier. You don't need to get your charger out and find an outlet anymore when you have this cool device.
What is Pass-Through Charging?
A new, useful feature that not all power banks have is 'pass-through charging'. What does this do? Well, in power banks without it, when you charge your power bank by plugging it in a wall outlet, the system shuts off and you can't keep charging your phone with it. If you try to do so, this will likely damage your devices too.
But with pass-through charging, you can do both simultaneously. Ran out of power bank battery 'and' phone juice? Just find an outlet for the power bank, it will replenish itself as well as your smartphone. And this is safe for your device!
What are your options?
Anyone looking for a power bank knows that the market is filled with endless options. This can get confusing especially when they all advertise long-lasting battery, high power, and fast charging capabilities.
Which are the top power banks with pass-through charging this year? How can you choose the one that is right for you?
Our in-depth guide takes you through your best options in terms of build, weight, portability, quality, power capacity, and features.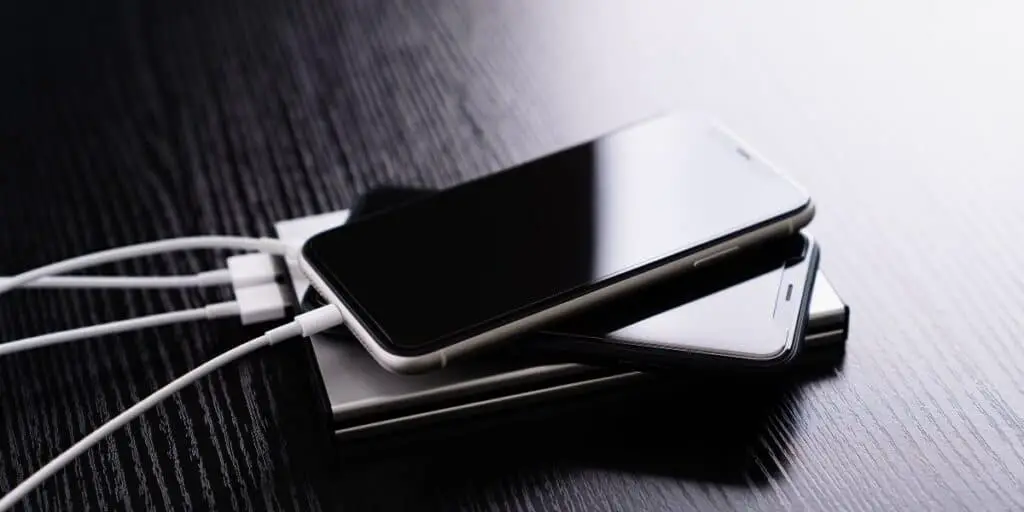 ---
Last update on 2021-04-21 / Affiliate links / Images from Amazon Product Advertising API
Equipped with 20,000 mAh of power, The Rav power bank is a beast when it comes to charging your smartphone multiple times. RAVPower is a known brand name in the world of wireless charging solutions. This model weighs merely 0.98 lbs with dimensions of 6.5 x3.1x 0.9 inches.
It has 3 output ports which means you can charge up to three devices at one time- so bring on your laptop, tablet, smartphone, and let this charger do its magic. On top of that, it's blazing fast charges make sure you stay productive. And a full recharge only takes 5 and a half hours.
The smart and simple design also looks professional and has a cool LED display to show you the battery and charging status.
This charger is on the heavy side but for the levels of power, its' giving-we find it justified. Plus, the solid build feels high quality and adds much-needed durability.
---
Last update on 2021-04-21 / Affiliate links / Images from Amazon Product Advertising API
The Ekrist portable charger is an excellent choice if you are on the go, and need a monster charger to keep your devices fuelled up. It has an ultra-high battery capacity of 25800 mAh paired with a slim design that makes it such a stunning yet powerful product. Weighing only 0.5 lb, this device screams portability and we love that.
It has two charging ports which are good for day-to-day use and are compatible with all iPhones, Samsung Galaxy smartphones as well as most other phones. It can also safely charge AirPods, Bluetooth devices, laptops, and tablets.
With dual ports and fast recharging, both the power bank and your device can crank up their batteries together. And with built-in protection, this battery pack ensures that your devices are safe from overcharging or damage.
One additional convenient feature is its' 4 LED lights to indicate the remaining battery or charges.
Its' red and black contrasting color and rugged design give it a stylish look. The package comes with a micro-USB cable and user manual.
---
Last update on 2021-03-31 / Affiliate links / Images from Amazon Product Advertising API
This one is a no-brainer as Anker is reputable for its' high-quality devices and power banks. With 20100 mAh you can sit back and unwind without worrying about frequent recharges. Packed with an amperage of 4.8 and two charging ports, simultaneous charging is also killer fast.
It is compatible with most devices and takes your phone from 0 to 50% battery within 40-50 minutes.
Apart from the impressive specs, it has a sleek and curvy design with a polycarbonate shell on the outside, and a double-layered metal internal adding to durability.
It weighs 0.78lb which is impressive with such a solid build and power capacity. The power bank comes with a micro-USB cable, a travel pouch, and a user guide.
---
Final Thoughts
All the models we have suggested are from top brands with certified good reviews. At the end of the day, you have to make a choice based on your budget, use, and features that personally suit your needs.
It's also recommended to choose a brand known for its' quality. Many cheaper brands don't have 'actual' power capacity as high as they advertise.
Keep your own needs in mind. How frequently do you charge your phone? Do you prefer lightweight and portable devices over heavy-duty monster chargers? Depending on the number of devices you own, how many USB ports are sufficient? You don't need to pay for more than you require.
People also frequently ask if pass-through charging can affect the battery life of their power bank? The answer is both yes and no. From time to time, this mode of charging won't cause any damage. Most good products are built to accommodate it.
But it is not entirely without risk. If you regularly start using this feature, your device will overheat and exhaust more energy which may harm the power banks' battery capacity.
So yes, pass-through charging is very convenient when needed occasionally. But to stay safe, its' best not to turn it into a routine in the long term.
Lastly, even power banks should be used with caution. When at home, plug into a wall outlet or socket for charging your devices. Treat your power bank as a traveling buddy. After all, we can't deny it is an absolute god-send when we're out and our phone is already dying by afternoon.