If you're looking for a recreational portable generator or a generator as an emergency backup power source, then you can't go far wrong with the Westinghouse iGen2500 Portable Inverter Generator.
If you're in the market for a new portable generator for whatever reason you have probably read so many reviews, buyers guides, and articles trying to find the best portable generator for your needs.
Am I right?
In this Westinghouse iGen2500 Generator review were going to try and cut out all the information that you normally find in many reviews. Because too be honest you don't really care to know most of it.
This will be a straight to the point review!
In fact… Skip this article and find out the latest price and availability here from Amazon!
So, without further ado, let us take a look at the Westinghouse iGen2500 and compare it to some other Westinghouse Gens to find you the best option for your needs.
Quickly, without fuss and no BS!

No products found.
Here are some more Westinghouse Generators to compare!
Long Run Time

Largest Wattage

Monster Power

Starter
Electric remote & Pull Cord
Electric remote & Pull Cord
No Outlets
(1) 120/240V 30A (L14-30R) (2) Duplex 120V 20A GFCI (5-20R)
2) Duplex 120V 20A (5-20R), (1) 120/240V 30A (L14-30R), (1) 120/240V 50A (14-50R) (2) 5V USB ports
(2) 120V 20A (5- 20R), (1) 120V 30A (L5-30R), (1) 120/240V 30A (L14-30R), (1) 120/240V 50A (14-50R) (2) 5V USB Ports
Long Run Time

Starter
Electric remote & Pull Cord
No Outlets
(1) 120/240V 30A (L14-30R) (2) Duplex 120V 20A GFCI (5-20R)
Largest Wattage

Starter
Electric remote & Pull Cord
No Outlets
2) Duplex 120V 20A (5-20R), (1) 120/240V 30A (L14-30R), (1) 120/240V 50A (14-50R) (2) 5V USB ports
Monster Power

No Outlets
(2) 120V 20A (5- 20R), (1) 120V 30A (L5-30R), (1) 120/240V 30A (L14-30R), (1) 120/240V 50A (14-50R) (2) 5V USB Ports
Last update on 2021-04-21 / Affiliate links / Images from Amazon Product Advertising API
About the iGen2500
It produces up to 2,500 peak surge watts (starting watts) and 2,200 running watts, making it perfect for emergency home backup during a power outage or for recreational uses such as camping and tailgating.
Powered by an awesome 4-Stroke OHV Westinghouse Engine which is renowned for being reliable, the iGen2500 is engineered to automatically adjust its engine speed to produce only the amount of power you need for enhanced fuel efficiency. 
Making this one of the most efficient portable generators on the market today.
Why is this important?
Well, if you're taking this generator fishing, Tailgating or camping you don't want to be carrying heavy cans of fuel. You want a generator that will run on one full tank of fuel for hours. The iGen2500 will run for 10 hours on a 25% load from one tank of fuel.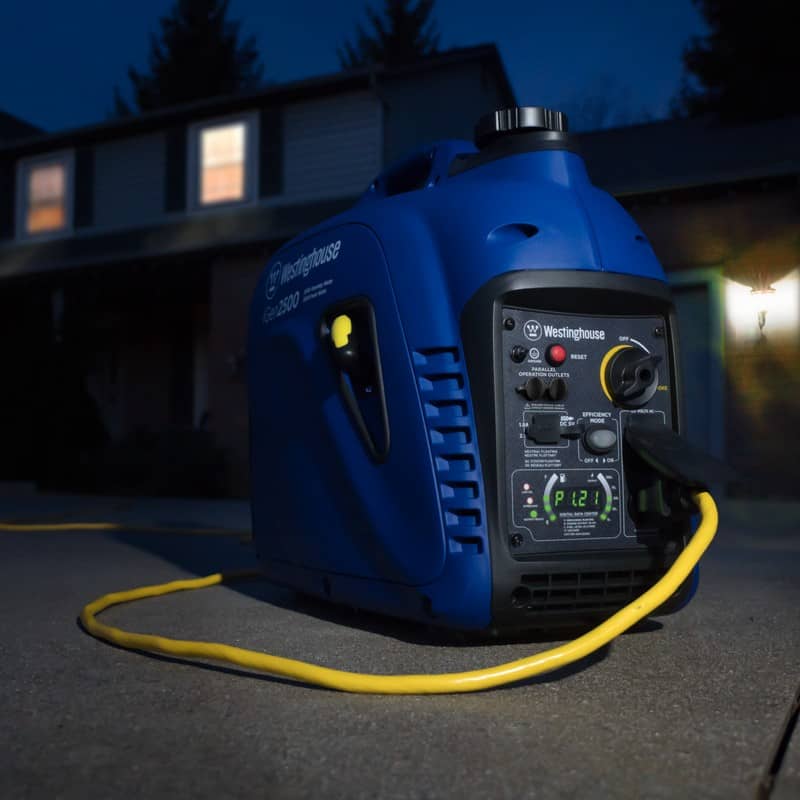 What Can the Westinghouse iGen12500 Run?
An inverter generator like the Westinghouse iGen2500 creates AC power via an engine connected to an alternator. It then converts the AC to DC by using a rectifier.
It relies on high-tech magnets to do this and uses advanced electronic circuitry during its three phases; output of AC, conversion to DC, inversion to AC.
They are more energy-efficient as the engine speed adjusts itself according to how much power is needed and can be set to any voltage and frequency when used with the proper equipment.
Inverter generators are best suited for running sensitive appliances like laptops, computers and camera equipment and can be easily carried in cars, RV's, and boats.
Read our Guide to the best generators for RV's here!
Giving out over 2000 Watts means it is capable of running many home appliances with ease. Especially the small devices you'll take out camping, fishing or to a tailgate party like a small TV, Radio, Cellphones etc
Here are a few appliance wattages to give you an idea of the capability of the iGen2500
| Appliances | Running Wattage | Start-Up Wattage |
| --- | --- | --- |
| Tablet Computer | 10W | 15W |
| 32" LED TV | 20W | 60W |
| Cooling Fan | 40W | 60W |
| Freezer | 40W | 60W |
| Lights 60W bulb | 60W | 60W |
| Refrigerator | 150W | 300W |
| Electric Drill | 800W | 1400W |
| Lawn Mower | 1000W | 1500W |
| RV Air Con | 1300W | 3400W |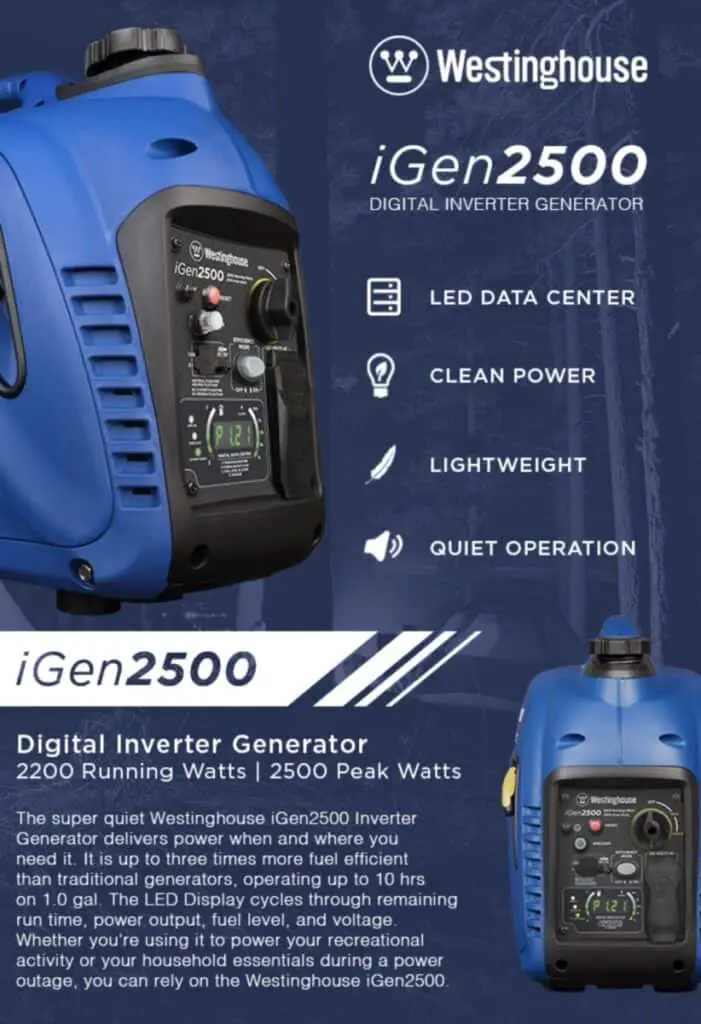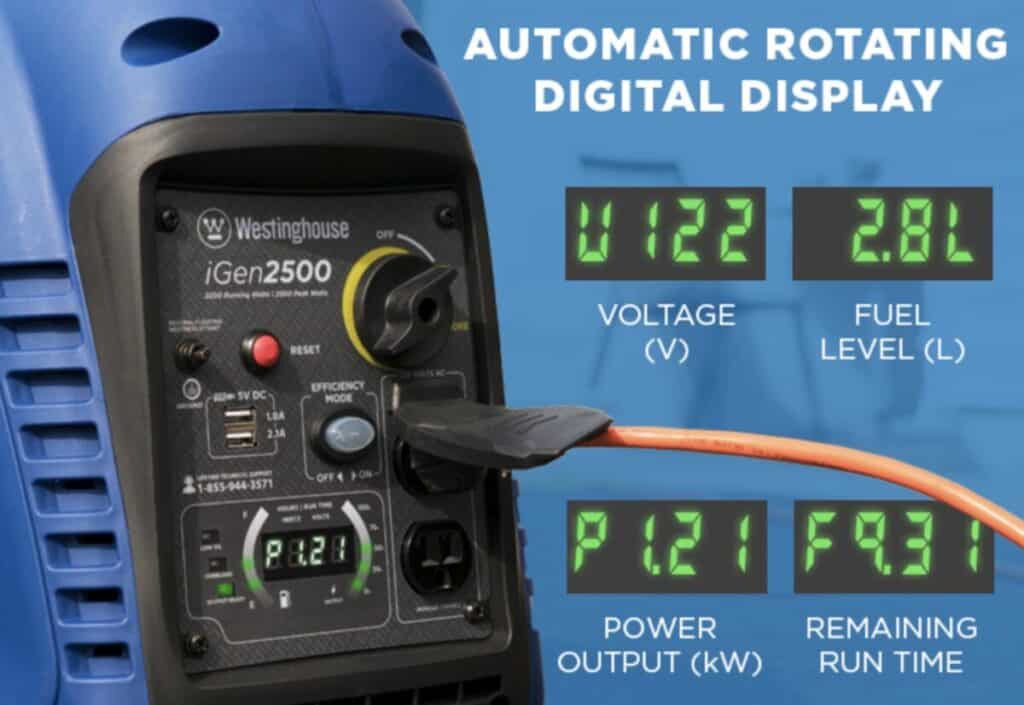 How Quiet is the iGen2500?
The iGen2500 has an ultra-low tone for community-friendly use, operating as low as 52 dBA which is quieter than the average conversation.
Generators vary in the amount of noise they produce from the quietest to those loud enough that they will disturb the neighbors and potentially damage your hearing. The Westinghouse falls far below that level.
For these reasons you should always choose one that is as quiet as possible; around 60 decibels is acceptable. At this noise level you will be able to hold a comfortable conversation and not disturb everyone around. 
Technical Spec
| Peak Watts | 2500 | Running Watts | 2200 |
| --- | --- | --- | --- |
| Peak Amps | 20 Amps | Running Amps | 18 Amps |
| AC Voltage | 120 Volts | AC Frequency | 60 Hz |
| Fuel Tank Capacity | 1.0 gal. (3.8 L) | Fuel Gauge | Yes |
| Run Time @ 25% | 10 Hrs | Outlets | 1 Duplex 120V 20A (5-20R) |
| RV Ready | No | GFCI Outlets | No |
| Display Type | LED Data Center | % Power Output Display | Yes |
| Power Output (kW) Display | Yes | Voltage Meter | Yes |
| Frequency Meter | Yes | Remaining Runtime | Yes |
| Lifetime Run Hours | Yes | Run/Maintenance Timer | No |
| Low Oil Indicator | Yes | Overload Indicator | Yes |
| Output Ready Indicator | Yes | Push-Button Start | No |
| Covered Outlets | Yes | Overload Protection | Yes |
| Battery Float Charger | No | Warranty (Residential) | 3 Year Limited |
| Warranty (Commercial) | 1 Year | Assembled Length | 19.8 in. (503 mm) |
| Assembled Width | 11.4 in. (290 mm) | Assembled Height | 17.9 in. (455 mm) |
| Dry Unit Weight | 48 lb. (22 kg) | UPC | 855464003896 |
Download Manual & Operating Guide here!
Quick start Guide – Click here
Editors Thoughts
When we first received the iGen2500 I filled the engine up with the oil that came with the generator included in the price, and pulled the cord 3-4 times to get the oil moving around. I then added about 0.75 gallons of fuel to the tank.
The unit fired up on the 3rd pull!
Which was a surprise to me! Most brand-new generators take several pulls and a little bit of messing around to get them to fire up.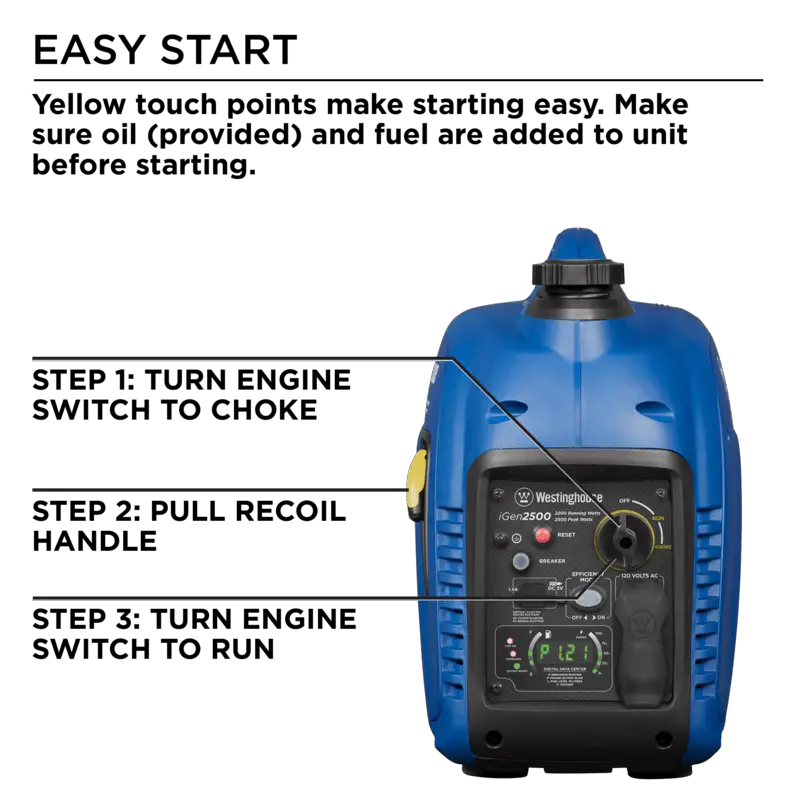 The first thing I noticed, like with all generators, was the surge in power and noise at the start. This is normal and it only took a couple of minutes to settle down and run at a steady run rate.
Overall, I was very impressed with this generator and my first thought turned to how good it would be on family camping vacations. Where you often don't need much power, just enough to charge your cellphone and power lights and heaters.
However, with 2500 Watts it is capable of powering more than just a few lights. It can run machinery and power tools within the wattage.
Please note: Always use a circuit breaker when using any appliances!
Where to Buy?
Westinghouse has a wide range of outlets and these generators can be found in most good stores including Home Depot. Many more outlets can be found on their website.
We did however, find some of the best prices online at Amazon. We have included the link here: Amazon ↗️