Are you a boater? Do you boat for pleasure? Then a luxurious boating experience is doubtless what you seek! There is much to be said about being out on the water: the fresh air, the sound of the waves, etc. 
There are also some unpleasant aspects, like excessive heat, or trouble seeing in the dark. You can eliminate these problems with a portable generator, and enhance your boating experience overall.
So, what should you look for to find the best portable generator? There are a few features that every good generator should have. The most important ones are listed below!
In a hurry? See the 3 we recommend below on Amazon
Why Do You Need A Portable Generator On Your Leisure Boat?
First and foremost, a portable generator can be a lifesaver in the case of an emergency. An energy backup is always good to have.
Also, portable generators are not just practical, they can be a real game-changer! With a quality portable generator, you can heat food, run air conditioning, make coffee… you name it, and your generator (depending on its wattage) can do the trick.
Many also use a generator to power lights for night fishing. Needless to say, this is much more effective than a lantern or the like!
With a portable generator on your leisure boat, you can play some tunes, kick back with a cup of joe, and relax. 
Safety
To safely use a generator, always follow the instructions closely. Never overload your generator. Promptly replace the oil. Do not run the generator on low fuel. And so on.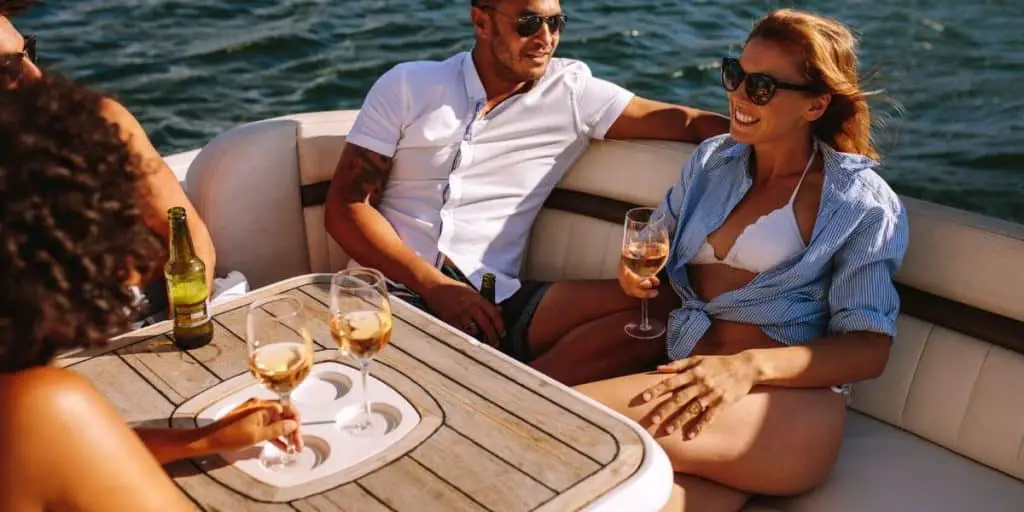 How To Find The Best Portable Generator 
So, how do you find one of these products of quality in general? There are a few key things that you will want to consider:
Wattage Means Power
This is as simple as it can get: with generators, as with all electronics, the greater the wattage, the greater the power. Of course, the most powerful generators will sometimes also have a higher noise level. Always be sure to check.
Noise Level
When it comes to choosing a great portable generator, one of the first things that you should consider is how much noise it will produce. No one wants their peace and quiet on the water disrupted by a loud, unnatural-sounding generator, right? For fishermen, this could even cause their potential catch to spook. 
The top portable generators produce only 50-60 decibels. Others may produce 70 or more. There is a bit of a trade-off; usually, the more powerful the unit, the louder it will be as well. For a truly smart purchase, find one that is somewhere in the sweet spot: a lower decibel rating, but plenty of power!  
Fuel
The fuel that your portable generator runs on will affect its performance significantly. Each fuel has its own pros and cons when it comes to sound level, efficiency, and more.
Gasoline
Portable generators for pleasure boats that run on gasoline are some of the most popular out there. This is because gas is especially readily available and affordable fuel. When it comes to convenience, this makes it ideal. 
The main downsides to gas are its short shelf life (so it is hard to store), and the fact that it is not particularly eco-friendly. However, for an average-length pleasure boat day trip, you are unlikely to run out of fuel.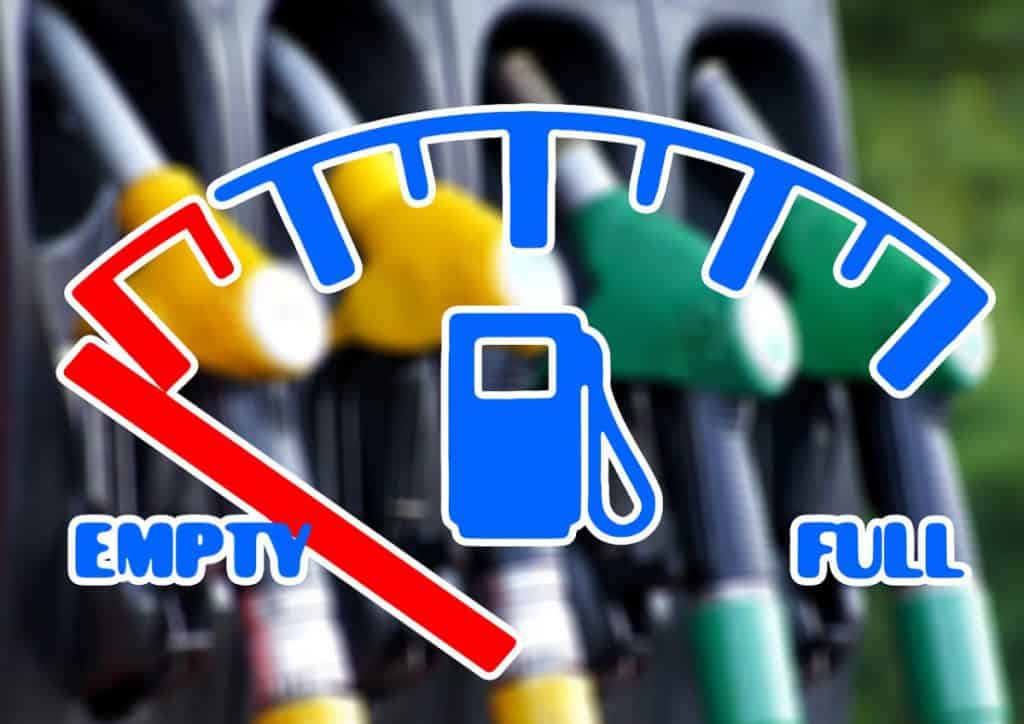 Diesel 
Next, we have diesel, which is perhaps the second most popular fuel. Diesel lasts for longer compared to gasoline, but also tends to create more noise as it moves through the generator, burns, etc. While there are quieter diesel generators available, this is generally known as a noiser type of fuel.
Propane
Propane generators are fantastic in that propane has a long shelf life. This is a fuel that you will be able to stock up on, and store. Not only that, but propane tends to burn smoothly and quietly, making for a generator that produces fewer decibels. Propane also burns more cleanly than gasoline or diesel. 
The downsides of propane? It goes more quickly compared to gasoline or diesel, so it takes a bit of a hit as far as fuel-efficiency. Generators that run on propane also tend to be larger, as propane requires its own tank.
Natural Gas
Like propane generators, natural gas generators tend to be on the quieter side. This can be perfect for those looking to create a boating environment that is nice and tranquil. Unfortunately, natural gas can be a bit tricky to find a fuel-up spot for. This makes it difficult to stay in stock. 
To make matters worse, natural gas is not known for its fuel-efficiency. For those with ready access to a fuel-up spot, natural gas can be ideal. Otherwise, you may wish to find an alternative.
Inverter Generators vs Conventional
Your average, conventional portable generator draws power only from the fuel tank. An inverted generator, on the other hand, possesses a state of the art battery, alternator, and inverter. As a result, conventional generators create a high-frequency AC current; the current is direct, and powerful. 
Inverter portable generators are more intricate and complex. With an inverter generator, the AC current is sent to the alternator, where it is converted into a DC current; the DC current is then converted back to an AC current. This creates a current that is extra stable.
Conventional generators are mostly used to power lights, cooling, and so on.  Inverted generators can do this, and charge sensitive devices as well. This means that you can plug in your phone or tablet with little risk. 
Additionally, inverter generators are fairly lightweight, whereas conventional generators tend to weigh a bit more.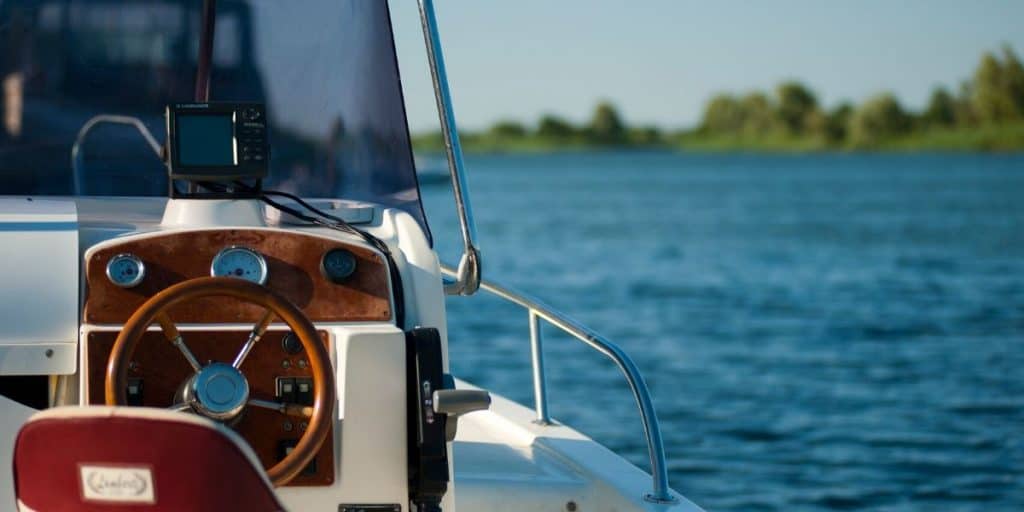 ---
5 Best Portable Generators for Pleasure Boating
The A-iPower SuA2000iV Ultra-Quiet 2000-Watt Portable Inverter Generator is true to its name, with ultra-quiet, 50-decibel function. This portable generator produces just a mild hum, so you can still hear the water lapping, carry on conversation, and so on. 
This portable generator has a 1.1 gallon fuel tank, which provides up to 7 hours of run time (at 50% load). At 100% load, you can expect around 4 hours of runtime. This is plenty for a nice, long boat trip! Longer, if you bring supplemental fuel. The generator even has a handy fuel gauge, which makes it super easy to keep track. 
You will probably want to check your notifications on your boat, and your battery is sure to gradually deplete. Luckily, the A-iPower SuA2000iV Ultra-Quiet 2000-Watt Portable Inverter Generator is a new-gen 'inverter' type generator. The generator is designed to charge even the smallest device, including your phone or tablet, virtually free of risk to the device. 
You can power a television, laptop… as long as it fits under its maximum load, this portable generator will charge your various electronics, good as new.
PROS
Truly quiet function
Sleek appearance
Good runtime
Safe for sensitive electronics
Portable
Reliable
Eco-mode
CONS
Some have accidentally overloaded this generator, causing it to break
Read Customer Reviews on Amazon 🔁
---
The Generac 7117 GP2200i 2200 Watt Portable Inverter Generator has a special enclosed design, which traps a great deal of sound inside. The result is a portable generator with truly quiet function. This will allow you to maintain a natural atmosphere. 
This portable generator is extra user-friendly, with LED indicators that will keep you in the know! These will alert you of overload, power, and low-oil. 
To start your Generac 7117 GP2200i 2200 Watt Portable Inverter Generator, all that you need to do is operate the integrated knob (off, run, choke). While many find this process simple, others are not a fan of recoil-start generators in general. 
This generator can run for 10-11 hours at 25% load, thanks to a 1.2-gallon fuel tank. 
The Generac 7117 GP2200i 2200 Watt Portable Inverter Generator also has plenty of handy accessories, including a built-in handle, economy mode, a USB port, and more.
PROS
Quick to fuel
Starts fast and simple
Extra user-friendly (with LED indicators and the like)
USB port
Convenient handle
Good runtime
Automatic shutdown when oil gets low
CONS
Some dislike recoil-start generators in general
Read customer reviews on Amazon 🔁
---
The WEN 56200i Super Quiet 2000-Watt Portable Inverter Generator is true to its name. It functions super quietly, and is said to be no louder than your average conversation, in general. The generator has 2000 surge watts and 1600 rated watts, making it quite powerful. 
At the same time, this portable generator is specially designed to charge sensitive devices, virtually free of risk. This means you can charge just about anything, from your phone to full-on air conditioning (what a luxury on a boat! Keep the cabin nice and cool). 
Along with its two, three-prong receptacles, and one 12 DC receptacle, as well as one 5V USB port, the WEN 56200i Super Quiet 2000-Watt Portable Inverter Generator is truly versatile. Power up and enjoy amenities on the water, at your leisure. 
This generator has a 6-hour half load runtime, which is certainly respectable. This is long enough for a pleasant, daytime boating-trip (or some night fishing, lit-up, courtesy of your very own generator).
PROS
Convenient handle
Eco-mode
Lightweight, and easy to carry and move
Powerful
Safe for sensitive devices and the like
CONS
Some have experienced overload with this generator. Use due care
Read customer reviews on Amazon 🔁
---
The Westinghouse WGen7500 Portable Generator is a generator that is, in a word, heavy-duty. The state-of-the-art generator has a whopping 6.6-gallon fuel tank. This translates to an incredible 16 hours of runtime. The result is an ultra-powerful generator that is also low-maintenance. What more can you ask?
A remote start, that's what! This generator is very user-friendly. You can start it with the simple press of a button, either on the generator itself, or from afar, with a remote control. 
The generator also comes with a 12V battery charger, oil and an oil funnel, a tool kit, and a user's manual… everything you need to get your generator started and purring like a cat! There is minimal assembly required as well. This generator uses a state-of-the-art 420 cc Westinghouse 4-Stroke OHV Engine to do all of the work.
PROS
Heavy-duty
Huge, 6-gallon tank
Incredible 16-hour runtime
Simple start with the push of a button
Remote control
CONS
Very heavy, at 192 lbs
The battery can give out without the proper care
Can wear out over time (be sure to maintain properly!)
Read customer reviews on Amazon 🔁
---
1. WestinghouseiGen 2500
Last but not least, we have the Westinghouse iGen2500 Super Quiet Portable Inverter Generator. At only 48 pounds, this generator is lightweight, and easy to carry and move. A noteworthy feature is its unique camo design, which is both fun and practical.  
This generator has your standard 1.0 gallon tank, outfitted with a very useful eco-mode (known as efficiency mode). 
The Westinghouse iGen2500 Super Quiet Portable Inverter Generator has exceptional fuel-efficiency, and a runtime of up to 10 hours on one tank. Impressive! 
To top it off, this generator is loaded with accessories, including an LED data center and a rotating digital display. These show important information, like fuel level, voltage output, and remaining runtime.  In a nutshell, the Westinghouse iGen2500 Super Quiet Portable Inverter Generator is reliable, user-friendly, fuel-efficient, and effective.
PROS
Ultra fuel-efficiency
Quiet function
User-friendly LED display
Camo design
Lightweight and easy to carry and move
CONS
Not compatible with some outlets (one customer has trouble with a GFCI outlet)
Some customers find it rather hard to start this generator
Read customer reviews on Amazon 🔁
---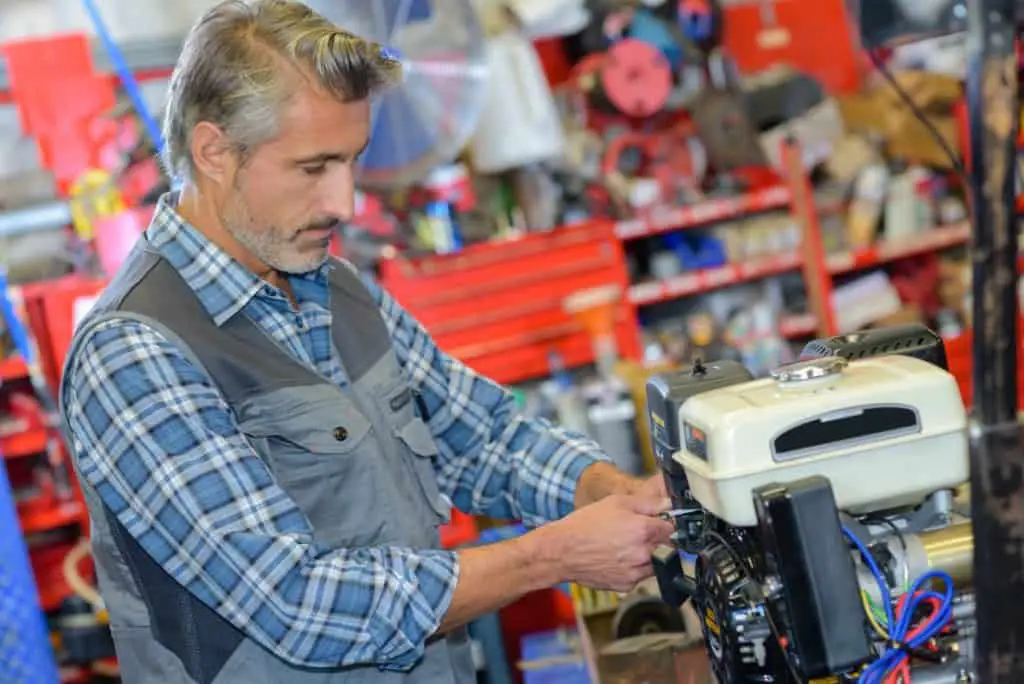 Portable Generator Maintenance and Care
To keep them in tip-top shape, even the best generators will require a bit of maintenance. Fortunately, this should be minimal. The following are a few tips that will keep your portable generator running smoothly, and reliable.
Keep your battery above the minimum charge. This goes for any kind of battery, really!  Allowing your generator battery to reach low charge too often can cause it to deteriorate more quickly over time. As a result, you may find it lasting shorter and requiring a charge more often. Instead of a frequent partial charge, charge your generator up full every once in a while!
Make sure your generator is secure. Generators are some impressive pieces of technology, and vastly useful. You may wish to keep yours secure! Recommended is to hide your portable general with a cover, as well as to employ a chain and lock.
Get a fuel container equal to your generator fuel tank. To eliminate any guesswork, you may wish to purchase a fuel container that is the same size as your generator fuel tank. This should help make fueling up easier and faster overall!
Filter your fuel. To ensure the optimum function and longevity of their generator, some filter their fuel. 
Change the oil. Oil lubricates machinery and keeps it running without a hitch! Be sure not to neglect to promptly change your generator oil.
Read our TOP 10 BUDGET PORTABLE GENERATORS here 🔁
Editors Choice
The Wen 56200i 2,000 Watt Inverter Generator produces clean energy free of voltage spikes and drops without making all of the noise of a regular generator. It generates 2000 surge watts and 1600 rated watts of power. Its 79.7 cc 4-stroke OHV engine operates at an extremely quiet 51 decibels at quarter load, quieter than a window air conditioner or the average conversation.
At this noise level, it makes it perfect for boating, hunting, camping, tailgating, and restoring back-up power. Designed to mirror a pure sine wave, this generator limits total harmonic distortion to under 0.3 percent at no load and under 1.2 percent at full load, making it safe enough to run laptops, cellphones, monitors, tablets, and other vulnerable electronics.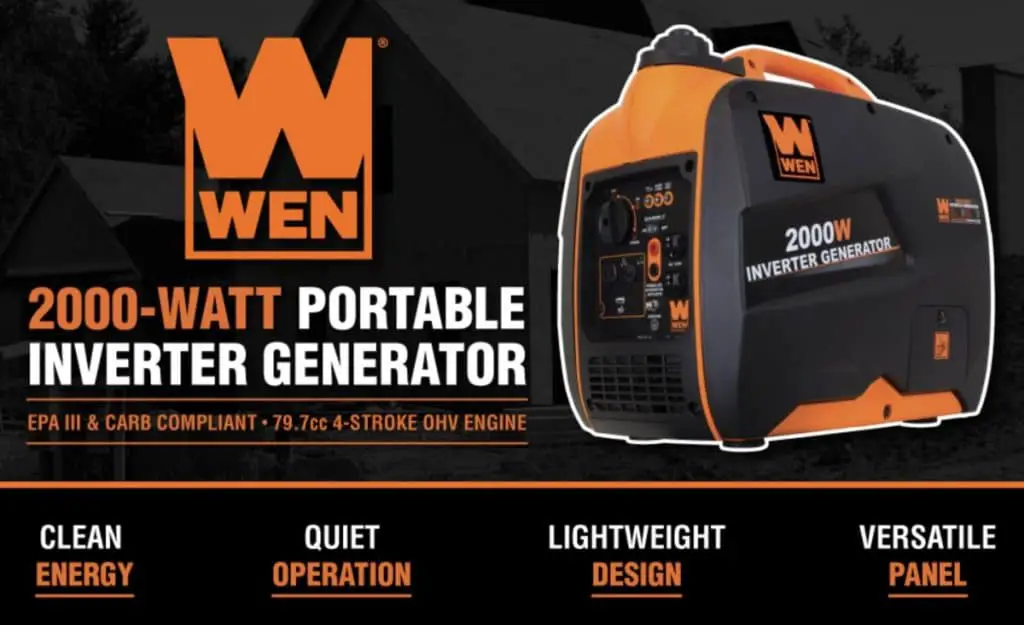 The lightweight design makes for easy portability while the ultra-efficient one-gallon tank provides over 6 hours of half-load run time.
Its fully-packed panel comes equipped with two three-prong 120V receptacles, one 12V DC receptacle, and one 5V USB port. Maximize fuel economy by engaging the WEN 2000 Watt Inverter Generator's Eco-Mode Throttle.
This feature allows the generator's motor to automatically adjust its fuel consumption as items are plugged and unplugged from the panel, preventing the usage of unnecessary gasoline. 
With all this in mind, you can see why this is our Top Pick See more information and the latest prices on Amazon here.
Conclusion: Best Portable Generator for boats
As you can see, nowadays, there are some excellent generators out there! With high-tech features like LED display and fuel-efficiency and runtimes that are better than ever, these generators are a must-have… especially for boating hobbyists! Out on the water, there is clearly no ready access to electricity. Use your own generator to power up almost any electronics that you desire.
The best will even charge sensitive devices, free of risk. With a portable generator, you can fish in an environment that is air-conditioned and cool, light up the area so that you can more easily night fish, and more.