The AIMTOM SPS-155 Portable Solar Generator features a 42000mAh, 155Wh energy power supply, emergency backup battery, multiple outlets, a flashlight, and several recharging options. You will be able to use it in indoor and outdoor activities, aboard a caravan, motor home, or tent, for example.
The AIMTOM SPS-155 Portable Solar Generator has a 110V AC 100W outlet, which you can use to power all small home appliances such as laptops and CPAP that have a maximum of 100W.
The 3 DC Ports provide a 12V power to a maximum of 180W. This can be used on all DC powered devices such as fans, radio, lights, Portable refrigerator, etc. The 3 USB Ports can be used on phones, GPS devices, tablets, drones, fans, cameras, and mp3 players.
The standby power consumption is low and meets the 5-star level energy efficiency standard; protection from under-voltage, over-voltages, overloads, over-current, overheating, and short circuits; so, you can buy it safely.
Last update on 2021-04-21 / Affiliate links / Images from Amazon Product Advertising API
What you get when you buy the AIMTOM SPS-155 Portable Solar Generator:
One AIMTOM SPS-155 Portable Solar Generator Power Station
One Home Electrical Outlet Charging Power Adapter
One 12V Cigarette Lighter Adapter
One Car Charging Adapter
A User Manual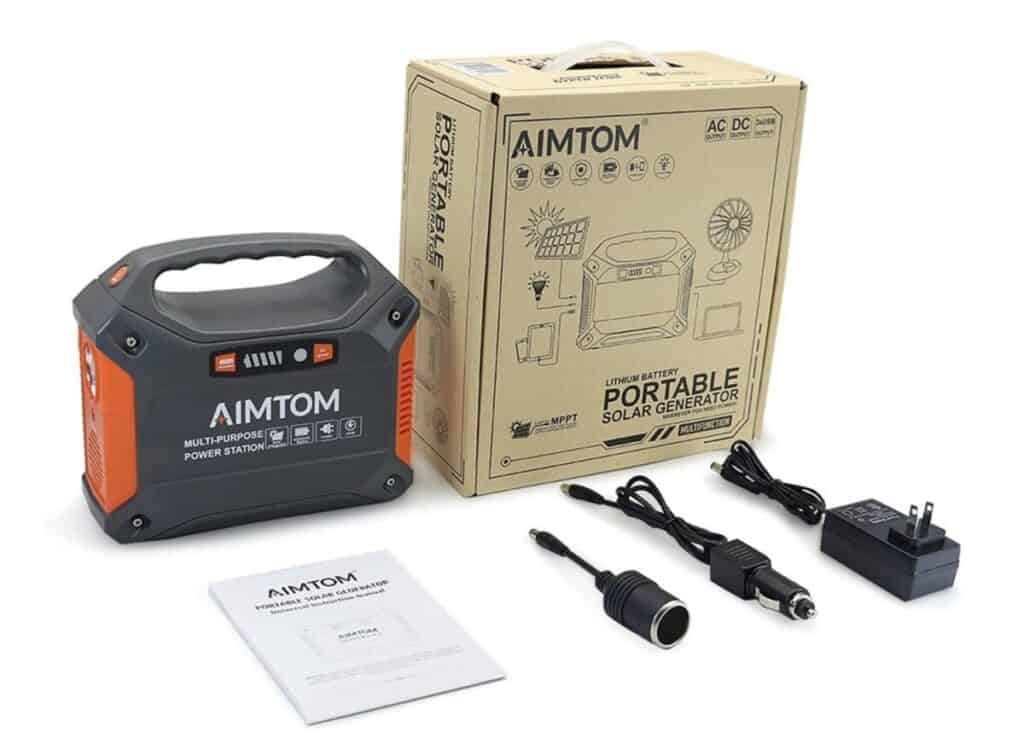 Key features in detail
The AIMTOM SPS-155 solar power generator has a large capacity, 42000mAh rechargeable lithium power supply that is long life. It is a perfect emergency power backup for home, travel, and camping.
It is safe to use as it has short circuit and overload protection. It also comes with a built-in led flashlight for lighting and led screen to show battery level and current type. 
Charging modes
It supports three charging modes. You can recharge by connecting to a solar panel (not included), or it can be fully charged in 8 hours via the wall socket or 12v socket of the car.
To safeguard electrical appliances and your generator from damages, it comes with an in-built Battery Management System (BMS). This makes it safe for use on laptops, monitors, cell phones, tablets, CPAP machines, drones, etc.
For solar charging, you can do so safely as it has a built-in MPPT controller.
Lightweight
The AIMTOM SPS-155 is easy to carry generator as it weighs only 3.48 pounds. It's compact size measuring at 7.6×6.7×3.5″ makes it possible to be put in a backpack. You can place it anywhere you want, and it won't take up much space considering the power capabilities.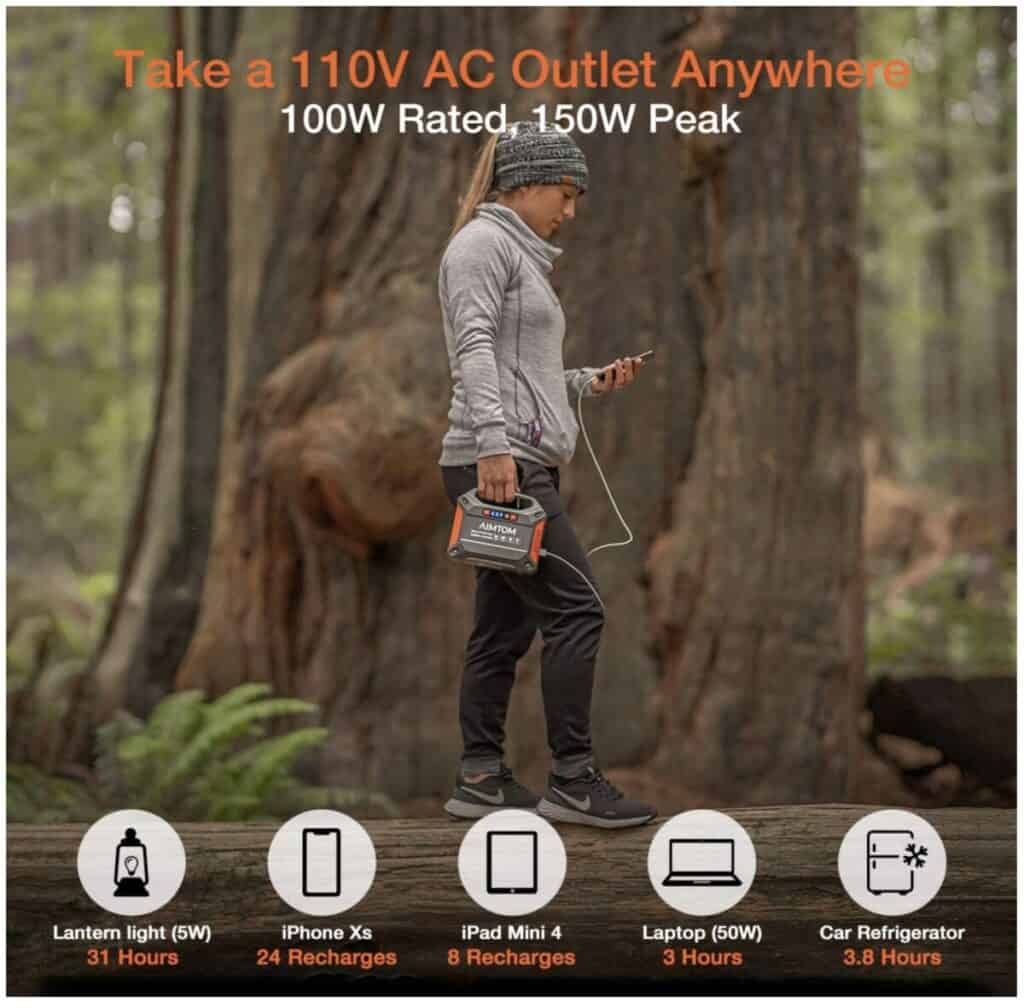 Tough
It's a sturdy portable power generator, but we don't recommend dropping it to the ground. Good quality thick plastics are used, and there are no loose parts in this power station.
The excellent engineering applied in the manufacture of the generator is noted. It is a compact device but very powerful to help you explore outdoor life. If you are looking for an emergency power supply for your home or needing to power a campsite, Tailgate party or your latest home improvement project, the AIMTOM SPS-155 solar power generator is the solution.
Outlets
The three versatile outputs, AC, 12V DC, and USB, can be used on various electrical appliances. The AC outputs provide power for low power devices (max. 100 W) such as laptops, CPAP devices. The three 5V USB output can be used on smartphones, tablets, laptops, cameras, lamps, drones, fans, appliances, CPAP devices, and more.
The AIMTOM SPS-155 solar power generator is designed to be a travel power station to power up to most devices less than 180W; it is light and compact and easy to carry around when you go out. Take and use almost anywhere.
Noise level
It is a silent generator. It comes with an integrated power inverter, making it run super quiet. Its extremely quiet operation is comparable to the sound of a normal conversation.
Key specifications
✅ Capacity: 42000mAh, 155Wh
✅ Adapter input recharge: DC15V / 2A
✅ Weight: about 3.48lbs
✅ Dimensions (LWH): 7.67×6.73×3.54 inch
✅ Built-in battery: Lithium-iON batteries
✅ Fully charged time: DC-15V / 2A: 7-8 hours
✅ Solar panel charge: MPPT 13 ~ 24V, maximum input
✅ DC Power (Max): 9-12.6V/15A (Max 180W)
✅ 3 USB Output: 5V / 2.1A (Max)
✅ Continuous AC Output: 100W
✅ Power Indicator: LED Indicators
✅ Bulb Type: LED Flashlight
✅ Range Operating temperature: -10℃-40℃
✅ AC output: AC100V-240V or 50Hz-60Hz
✅ Life cycle: more than 500 times
How to recharge the AIMTOM SPS-155 solar power generator?
In total there are a total of three ways to recharge this solar power station:
Recharging the AIMTOM SPS-155 solar power generator with solar panels
Solar recharging is what turns this technological wonder into a portable solar generator, and is arguably the quintessential recharging method by allowing us to carry constant electricity almost anywhere.
It comes with a built-in MPPT charge controller that efficiently regulates incoming power. Accepts input of up to 10 A (max.), 150W, and a voltage between 14 V to 40 V. The package you receive when you buy includes a Cigarette Lighter Adapter (for 12V Output) that you can use on your car.
220V electrical outlet (home electrical outlet)
In case you don't have solar panels or only use the generator a few times, recharging it at home through the 220V socket is a good option. You must use the indicated charger as if it were an electronic device with a battery.
A 70W AC input can recharge the generator in 6 to 8 hours, depending on the Lithium-iON battery capacity. 
12V Car socket (cigarette lighter socket)
This recharging mode will be perfectly suitable for non-sunny outdoor use of the AIMTOM SPS-155 solar power generator. You can fully recharge it in your vehicle in approximately 10 hours.
This is ideal in case you run out of energy during a trip, and you don't have a solar panel or a 220V socket available. As with the 220V socket, use the indicated charger and be careful not to mistake the polarity.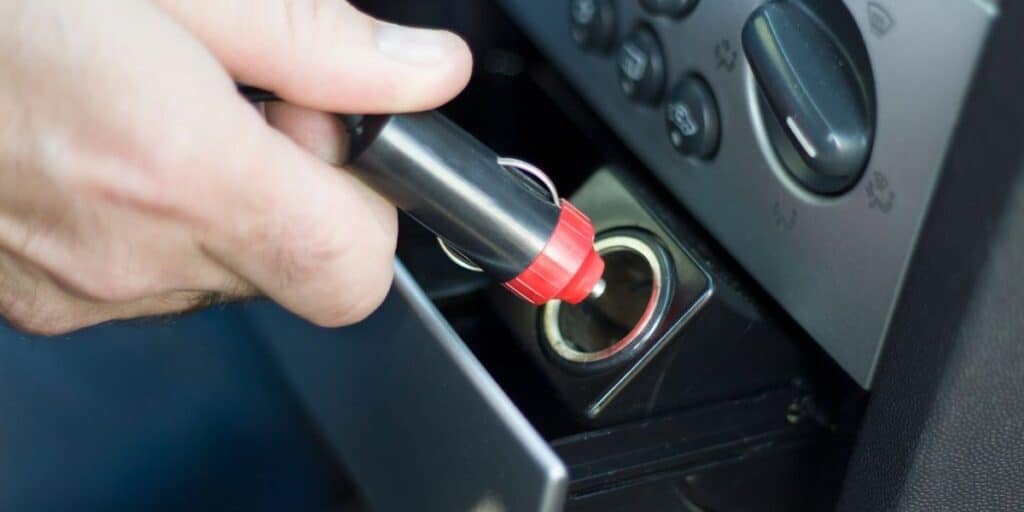 A generator suitable for all situations
AIMTOM SPS-155 solar power generator has been designed to meet all outdoor energy needs or in environments where electricity sources are limited. It is perfectly adapted to professional or particular needs; the uses are multiple and varied.
Enjoy camping like never before!
AIMTOM SPS-155 solar power generator is suitable for all outdoor travels. In particular when camping in a tent, motor-home or caravan. The solar generators will be able to power travel refrigerators, fans, portable computers, and electric coolers. Small and light, they can be used in a picnic or on the beach without any problem. 
On construction sites
It is ideal for use in most DIY tools such as drills, electric saws, measuring devices, water pumps, inflators, etc. The power supply possibilities are unlimited.
In a hospital environment
The electrical system in hospitals, research centers, and laboratories is a sensitive point in these establishments. The devices used such as computers, respiratory assistants, CPAP positive pressure ventilation, and other services that require an electrical supply without any risk of cutting can be powered easily with the AIMTOM SPS-155 solar power generator. It can be used as backup power in all these sensitive services.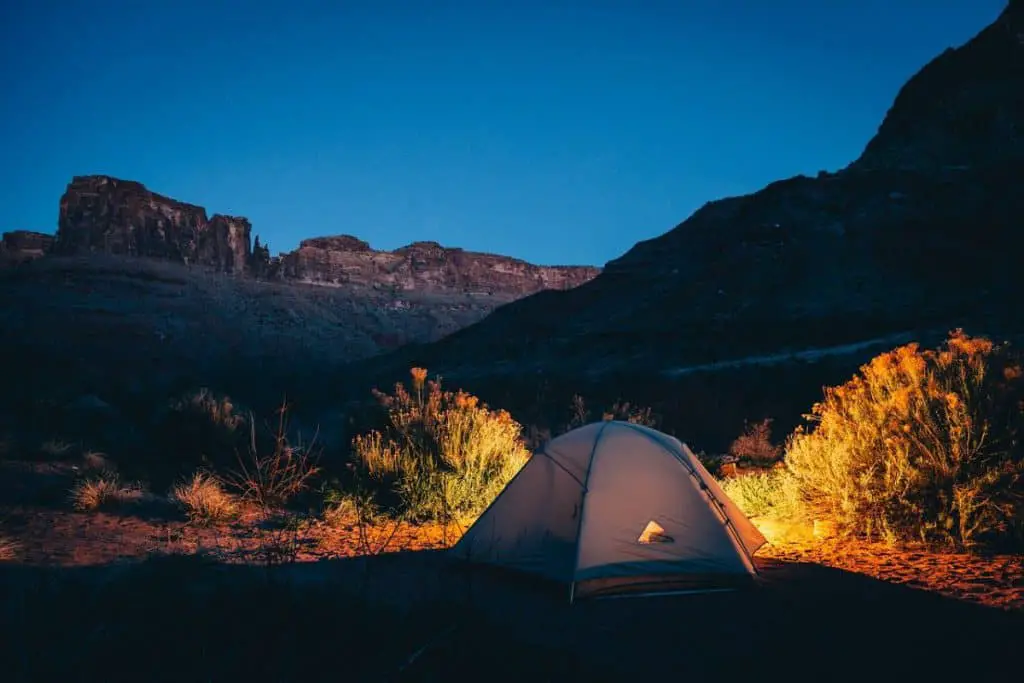 Why would you need a silent generator 
Safety
The AIMTOM SPS-155 solar power generator consists of no dangerous or harmful elements. There are no fuels that can cause explosions or cables that electrocute you. The only thing you can worry about is the battery charge level.
Noiseless
As in photovoltaic installations, an AIMTOM SPS-155 solar power generator is a silent generator. It is so quiet that you can sleep while the generator is running.
Need more power? Read our TOP 5 Quietest Portable generator reviews here!
Portability
Just because they are small in size and relatively light in weight, you can take your solar generator anywhere.
Multiple uses
AIMTOM SPS-155 solar power generator is very versatile, both when recharging and providing continuous or alternative energy.
Ease of use
Solar generators are very simple to use, you simply have to access it with the switch, and it is ready to supply energy. You don't even need knowledge about solar installations because an easy to use guide is included.
Frequently Asked Questions – FAQ
Q. What type of solar panel can I use?
A. You can use 12v 36 cells, 24v 60 cells, and 24v 72 cell panels, among others. Necessary: Do not exceed 24V or 150W or 10A. The AIMTOM SPS-155 solar power generator can absorb a maximum of 150W of energy in a solar charge. The open-circuit voltage of the solar panel should be 14V to 40V.
Q. Do I need a charge controller, or can I connect the solar panel directly?
A. The AIMTOM SPS-155 solar power generator itself integrates an MPPT charge regulator that works well to offer maximum efficiency without using other equipment.
Q. How long does it take to charge the generator in its three modes fully?
A. The approximate full charge times of the AIMTOM SPS-155 solar power generator in the three available options are:
5 hr with the wall charger for the entire load
12 hr with car charger for a full charge
3-30 hr with the Solar panel: It will depend on the Solar panel, but it will take an average of 4 hr with a 150W solar panel inappropriate weather conditions
Q. Can I charge with electricity at 115v?
A. Yes: You can charge your AIMTOM SPS-155 solar power generator with alternating current from 100V to 240V with the original charger included in the purchase package.
Q. Can it be used with several devices connected while charging?
A. It is ready to be used during charging. However, even though the generator is prepared to charge and provide power at the same time, the batteries suffer a more significant punishment that reduces the useful life of the cells. It occurs on all devices.
My thoughts
If you're thinking of recharging your new battery generator with a portable solar panel, I would not choose the AIMTOM one. It's not the best deal for any solar charger.
Everything AIMTOM sells has at least a 1-year manufacturer's warranty so you are guaranteed a quality product. Read our review on some of the best solar charging panels here.
I recommend buying through Amazon since the company has a strict and effective guarantee policy towards the sellers with whom it collaborates. This occurs with all existing lithium-ion battery devices, both in mobile phones and in all solar generators.
It is not something new or recorded, but it is good that you know this information.
The best use for the AIMTOM SPS-155 solar power generator is to charge the battery and then use the charge until it has low power to recharge, so the internal cells of the device are not stressed, and the life will be long-lasting. However, please do not discard charging and use it at the same time promptly.
To reassure you, I will tell you that most electric cars charge their batteries by braking at the same time that they supply the energy demands of the vehicle, and there is a 10-year warranty.
Last update on 2021-04-21 / Affiliate links / Images from Amazon Product Advertising API
What devices can I plug, and how long they work?
AIMTOM SPS-155 solar power generator is a powerful generator, but with a price much lower than that of leading competitors who led the sector with less powerful products.
Outputs and connections on the device:
An AC: 300W Pure sine wave (600W peaks)
1 USB Type-C QuickCharge QC 3.0 / 5V at 12V, 3A
2 USB-A Quick Charge / 5V to 12V, 3A
1 Car: 10A, 12V
3 DC: 9~12.6V/15A, 180W (Max)
You can use tools such as the radial, the jigsaw, drills, staplers, heaters, milling machines, large and small refrigerators, game consoles, televisions, electric ranges, radiators, lighting, computers, etc.
The best of all, you can do it at the same time as long as it does not exceed the 300W consumption. You can connect everything in this fantastic power bank designed for today's superheroes.
BUT … You have to pay special attention to the specifications of the device you are going to connect with.
How long does the battery last with my device?
Take, for example, a 25W TV on the AC 300W output. Wh of the battery divided by the W consumed by the device gives the approximate time.
Wh / W
500Wh / 25W = 20 Hours (Theoretically)
AIMTOM SPS-155 solar power generator User Manual
The user manual is an informative medium where the manufacturer of a product provides detailed information on the model's technical characteristics.
It offers us a source of trust with which to resolve doubts that we cannot overcome in any other way. That is why the AIMTOM SPS-155 solar power generator comes with a user manual. 
5 Other alternative Generators
Last update on 2021-04-21 / Affiliate links / Images from Amazon Product Advertising API