Having your own portable generator can have a lot of benefits. It can make camping trips more fun as you can use the generator to power a whole load of different electronics, you can hook it up to your RV, and it can even serve as a great backup power supply for when the power's out. 
That being said, choosing the right generator can be hard. You have to consider its power, weight, what fuel it uses, portability, and of course, the price.
If you would like to see more options you can check out our TOP 10 Portable Generator review here or the TOP 5 Quietest Generators if operating noise levels are your main concern.
While it's important to get a high-quality and well-made generator, you shouldn't entirely have to bust the bank. The Champion 3800-Watt Dual Fuel RV Ready Portable Generator is one product that comes to mind that checks all the boxes on a list of functional and practical generators. 
In this review Champion 3800-Watt Portable Generator, we take a dive into this generator to see how it runs, what it runs, and what features it has. Read on to find out more.
The Champion 3800-Watt Dual Fuel RV Ready Portable Generator
This is a great generator for anyone looking for a simple, portable, and highly functional generator. It has a dual-fuel engine. These engines are also called hybrid engines and they are a great choice for anyone looking to reduce their carbon footprint while also using less fuel. 
This is because the engine can run on two different types of fuel. It can run on gas, like most other generators you'll find, but it can also run on LPG, also referred to as propane. That's where it gets its name from. 
Aside from more efficient burning and less carbon emission, LPG is also safer to store and move around, as it's more compact than other fuel sources, as it is a compressed form of gas. 
That means LPG will go a longer way than gas when stored in the same container, which can do wonders if you're looking to reduce the amount of fuel you use and also save a bit of money.
Great Value

Lightweight

Huge Power

Watts
4750 Start up & 3800 Running
8400 starting 6750 running
Great Value

Watts
4750 Start up & 3800 Running
Lightweight

Last update on 2021-04-21 / Affiliate links / Images from Amazon Product Advertising API
In a hurry? See our ratings for the Champion 3800
Performance under full load
92%
• Touch Start – Battery included for push-button electric start
• Safety Fuel Selector Switch- Duel fuel
• Gasoline Fuel Tank and Propane Inlet
• Propane hose included
• Gasoline Fuel Tank – 3.4 Gallon (12.9 L)
• Portable – Folding handle with never-flat tires
• Runs up to 9 hrs. on a full tank of gas*
• Noise Level – 68 dBA from 23 ft.
Download Installation Manual Here
Why Choose Champion 3800-Watt Portable Generator
How Does It Run?
The generator has a 3800-Watt engine, which is the continuous running power of the engine on gas, and at start-up, it peaks at about 4750-Watts. However, if you choose to use LPG or propane as a fuel source, there will be a slight drop off in power with 3420W continuous running time and a peak of 4275W. 
This isn't a big drop off, so it won't cause you too many problems if you aren't using gas. However, whether you choose to run the generator on gas or propane, it will still be able to easily power almost any RV out there, so cross country trips and camping trips will be made that much easier. 
The generator will also power a whole load of different home electronics including laptops, certain lights, and other appliances. And if you plan on using the generator to power your workshop, you won't run into any problems either as this generator is definitely strong enough to power a whole array of power tools and even most water pumps!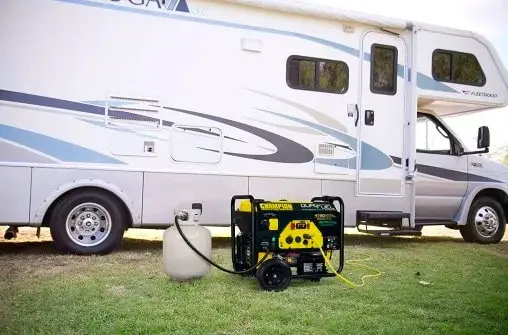 You might expect a generator with this much power to run very loudly, but that is far from the case. 
Since most campsites have outright banned loud generators as they can really get in the way of nature and the whole camping experiences, it's important for this generator to run quietly, and it does exactly that. 
From 23 feet away, the generator has a noise level of 68dBA. For more context, that's just about as loud as a regular conversation. 
It isn't exactly as quiet as those generators specifically designed to run silently, but it is definitely quiet enough not to bug you, or anyone else in the campsite or neighborhood.
What Power Outlets Does It Have?
As you can probably tell by this generator's name, this is one designed to be used with an RV, so it has all the outlets you'd need for an RV. It has a 120V 30A RV power outlet, a 30A locking outlet, and two standard 120V outlets like the ones you see in your home. 
This is about enough for you to easily and conveniently hook an RV up to the generator as well as simply use the generator as a backup power supply at home. Another plus is that all the outlets are equipped with circuit breakers and a VoltGuard that basically works like an Auto Voltage Regulator to keep your electronics safe from electrical surges. 
The machine also has a digital display that shows the voltage, running hours, and frequency, which can help you keep track of the generator's output and use. To make things even safer, the generator is also equipped with a low-oil shutoff feature (top prevent the engine from burning out), and a spark arrestor approved by the USDA.
How Portable Is It?
This isn't a large generator that needs to be loaded into a truck just to be transported, but it isn't exactly the lightest one either. It weighs in at about 122lbs, which may make it a bit difficult to load into an RV, but it is definitely portable. 
Champion also made sure to include a wheel kit with the generator to allow you to easily roll the generator around to wherever you want to bring it. 
Since it's relatively heavy, you might need some help lifting it and actually loading it, but the wheels make it a portable machine that requires a little bit of elbow grease to move around.
How Long Does It Run?
This depends on a lot of factors, including the fuel source and how hard the generator is working. But on average, this machine will run for about 6-9 hours on a full tank of gas (which is around 3.4 gallons), depending on how hard the generator is working (it runs for about 9 hours on 50% and 6 hours on 75%. 
However, you can stretch this a bit longer by using a 20LB LPG tank as that can keep the generator for running for around 10 hours, provided it isn't working at peak strength
Dual Fuel - Gas or Propane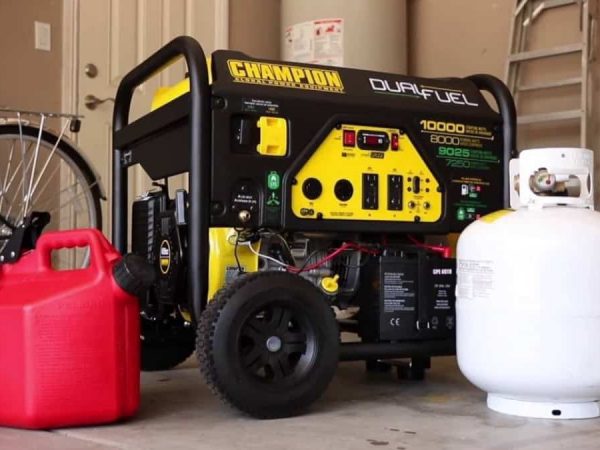 Champion's 3800-watt RV Ready generator with electric start features Dual Fuel, allowing the 224cc engine to run on either gasoline or propane. Featuring Intelligauge, Volt Guard and Cold Start Technology, it provides up to 9 hours of run time on gasoline or 10.5 hours on propane.
Wrapping up: Champion 3800 Generator Review
All in all, this a great generator to have at home. The Champion 3800 Watt Portable Generator is powerful enough to provide you and your family with electricity when the power's out, it can easily power your workshop, and it hooks up really easily to an RV. 
And while it's very powerful, produces a low amount of noise, and is portable, the generator also isn't too expensive that you're going to end up busting the bank just to purchase one. 
So if you've been on the hunt for a practical, powerful, and portable dual-engine generator, this one from Champion may be worth your consideration.
Sale
Champion Power Equipment 76533 4750/3800-Watt Dual...
Dual Fuel: Operate your 3800-watt portable generator right out of the box on either gasoline or propane, plus...
Electric Start: Power up the 224cc Champion engine with the handy toggle switch, battery included
Intelligauge: Keep track of voltage, hertz and run-time hours to easily monitor power output and track...
Outlets: One 120V 30A RV outlet (TT-30R), one 120V 30A locking outlet (L5-30R) and two 120V 20A household...
Champion Support: Includes 3-year limited warranty with FREE lifetime technical support from dedicated experts
Last update on 2021-04-21 / Affiliate links / Images from Amazon Product Advertising API